"Listen To, Engage With, Advocate Alongside."
This philosophy of Siem Reap based Non-Profit Organisation This Life Cambodia, along with other deep insights into developmental work, were shared by Billy Gorter, Founder of This Life Cambodia, to attendees of a professional seminar.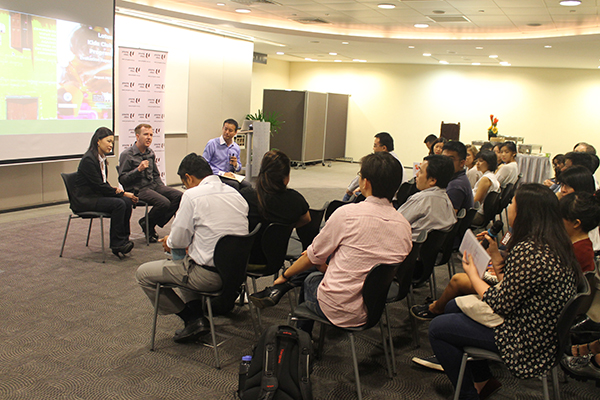 The free event, organised as part of the Project Happy Feet Slipper Race 2014 – Total Defence Edition, was held on Friday 21 February 2014, 7.30pm, and presented by Young NTUC as part of its CROSSROADS Series.
More than 50 professionals from non-profit organisations, corporate organisations, and government agencies attended the networking function.
Billy presented his organisation, and explained how they take a community-centric approach to developmental work: listening to the voice of the community, engaging with stakeholders including the government, and advocating for change alongside the community – essentially empowering the community by getting them to identify the root of their problems and coming up with their own solutions.
He also took numerous questions posed to him by the highly engaged audience, answering candidly about the plight of education in Cambodia ("only than 35% of kids make it to Grade 7"), reminding that the community is powerful because they have knowledge, contemplating about the effects of 'volun-tourism' and the rise of orphanage tourism, reflecting on the future of This Life Cambodia and how he plans for his role to be filled by a Cambodian in the future (This Life Cambodia is 95% staffed by Cambodians)
The organisers also took the opportunity to present giant cheques to the beneficiaries of the funds raised through the previous edition of Slipper Race. Receiving a cheque from the two co-founders and directors of Project Happy Feet Deborah Chew and Grace Chia were Mrs Kay Iswaran representing Compassion Fund, Ms Ng Ling Ling, Managing Director of Community Chest, and Billy representing This Life Cambodia.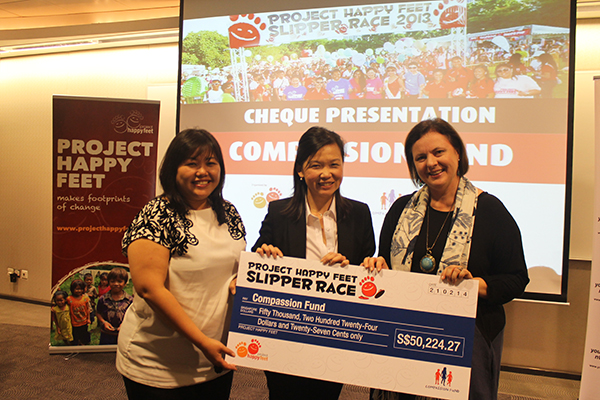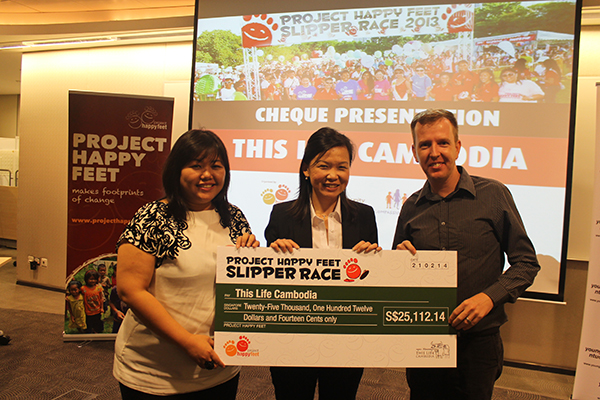 Billy and Ling Ling also took turns to present a token of appreciation to Project Happy Feet.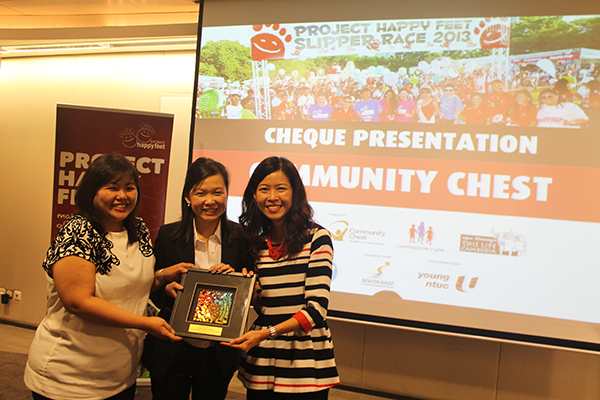 After the presentation by Billy and a short panel discussion and open forum with Billy and Deborah facilitated by Terence Quek, Director of Communication and Outreach of Project Happy Feet, attendees mingled and networked. PHF volunteers Wilson, Claudia, Elizabeth, Shueh Li, Carey, Mark, Angeline and Felicia were also present to host and manage a booth selling PHF merchandise and to collect donations to fundraise as part of the Slipper Race.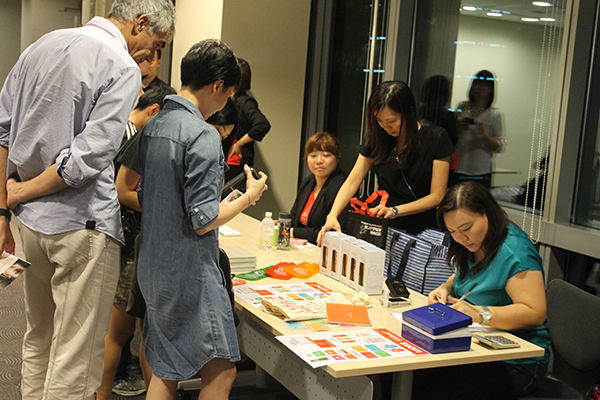 A total of $353 was raised.
Project Happy Feet would like to thank Young NTUC for its support in making this professional seminar event possible!