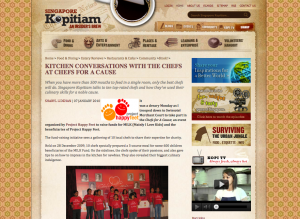 When you have more than 500 mouths to feed in a single room, only the best chefs will do. Singapore Kopitiam talks to ten top-rated chefs and how they've used their culinary skills for a noble cause.
By Sharyl Lidzhan
It was a dreary Monday as I trooped down to Swissotel Merchant Court to take part in the Chefs for A Cause; an event organized by Project Happy Feet to raise funds for MILK (Mainly I Love Kids) and the beneficiaries of Project Happy Feet.
The fund-raising initiative sees a gathering of 10 local chefs to share their expertise for charity.
Held on 28 December 2009, 10 chefs specially prepared a 3-course meal for some 600 children beneficiaries of the MILK Fund. On the sidelines, the chefs spoke of their passions, and also gave tips to on how to impress in the kitchen for newbies. They also revealed their biggest culinary indulgence.
Speaking while cooking up a three-course meal for 600 children, were:
–       Chef Anderson Ho, the executive sous chef of Singapore Airport Terminal Services Limited;
–       Chef Petrine Fan, culinary instructor, Temasek Polytechnic;
–       Chef Jimmy Chok, executive chef at The Academy Bistro;
–       Chef Daniel Sia, executive chef, White Rabbit,
–       Chef Jason Lee, executive chef, Seven On Club,
–       Chef Robert Chan, executive chef at the Swissotel Merchant Court Singapore,
–       Chef Christopher Tan,
–       Chef Robin Ho, the chef du cuisine with the Marmalade Group of Restaurants
–       Chef Pang Kok Keong, Executive Pastry Chef, Canele Patisserie Chcoclaterie, and
–       Chef Yen Koh, Executive Chef, Unilever Foodsolutions South East Asia/Singapore
Cooking and conversing
The volunteers — making balloons was indeed fun!
(More pictures on our Facebook page)
In my conversations, I realized that these master chefs — undoubtedly experts in their profession — were unique because each one adopts highly different views on the fundamentals of cooking. Take for example their replies on what constitutes a foolproof dish.
While making pasta with cream and tomato sauce for the kids at Chefs for A Cause, chef Anderson Ho (right) revealed that pasta "is the easiest thing to cook in the kitchen".
"As long as you follow the instructions written on the packaging, they are usually foolproof," he enthused. "And the only thing left is to cook a tomato base or cream sauce, which is also pretty simply and straight forward."
Chef Daniel, however, had a different view of a foolproof dish. "Salad, as long as you can get the dressing and seasoning right," he said, in between splashes of salt and olive oil on the pan. Chef Jimmy Chok, meanwhile, offered a more adventurous alternative in saying that a foolproof meal iis something that can be eaten raw, "just season and serve. But making or boiling a soup is also very easy, just throw everything in and boil."
And what about the favourite dishes the chefs like to make for themselves and their family?
Chef Petrine Fan conjures up a delectable image. "My favourite dish to make would be a breakfast dish, a full English breakfast with eggs, grilled tomatoes and mushrooms, potatoes and smoked herrings, served with English muffins — all made from the heart!"
For Chef Anderson Ho, his favourite dishes are heavily tinged with nostalgia. "For my family, I like to cook simple but hearty soups or broth which nourishes the mind and soul. They are my mom's (recipes) and it reminds of the herbal soups my mother used prepare with painstaking love and care. It's heart-warming to know that I can share them with my own family now."
It seems then, that for all their differences on the fundamentals of masak (cooking), all great chefs share a mutual love for the homemade food of the mother.
Respect for the matriarch
The chefs who made it happen
(More pictures on our Facebook page)
Chef Robert Chan, for example, seldom cooks at home — a sign of respect for his mother's cooking. "My mother is such a great cook, even till today," Chef Chan said. "I'm still learning from her. But in the rare occasion that my mother does allow me to step foot into her kitchen, I will try to whip up something simple for the family. To give an example, it would be Sri Lankan crab steamed in Chinese wine, which is one of my father's favourites."
Chef Chan (left) continues: "At a young age, I loved to hang around the kitchen to see my mother cook. I was given the opportunity to cook for large groups of people during my secondary school days in scout camps. It was through those cookout sessions that I found my passion; food is the fastest way to touch a stranger's heart."
For Chef Christopher Tan cooking is more than just a way to touch a stranger's heart. He believes food can be seen as links to human culture and creativity. Speaking as he carved equal portions of pasta on individual plates, he adds, "When you grow up in a household of people who really enjoy cooking and eating, it's only natural that you absorb the same passion."
Chef Robin Ho (right), meanwhile, prefers to downplay his masak skills. "I have a profound love and passion for consuming and discovering food. Add to that, meeting people, learning new things, discovering life and all this adds up. And it is the reason why I am so deeply in love in cooking."
As lunch hour draws near, things begin to heat up in the kitchen. Following the old adage '"if you can't take the heat, stay out of the kitchen", I decided to make myself scarce and quickly exited the kitchen to allow the chefs to continue on their culinary journey in peace.
As the beneficiaries of the Chefs for A Cause trooped in, the chefs started serving out the meticulously prepared meals for their young — and clearly famished — guests.
On the same day, the chefs also launched a cookbook comprising their specialties with all proceeds of the sale of the cookbook will be donated to the MILK Fund and Project Happy Feet.