Dr Mohamad Maliki Bin Osman is no stranger to Project Happy Feet Slipper Race.
In fact, since the very first race in 2011, Dr Maliki has graciously accepted our invitation to him to attend the Slipper Race as a Guest-of-Honour.
Each year, he can be seen wearing a pair of slippers (flip flops), flagging off the event, and sportingly walk alongside all the participants to complete the entire route.
This year, he returns again as the Guest-of-Honour, but in his capacity as Minister of State, Ministry of Defence and Ministry of National Development.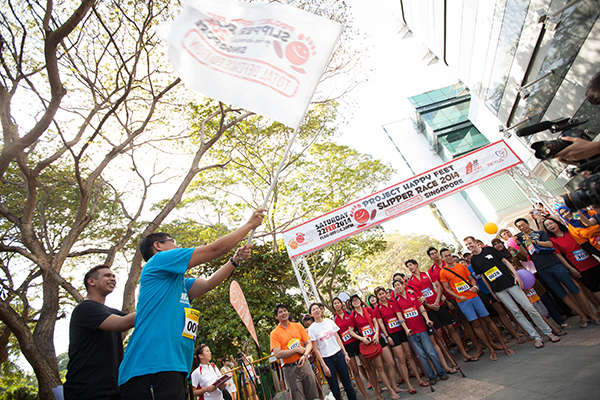 Though this is his fourth Slipper Race, this is the first time he made an address at this unique non-competitive fundraiser.
And what a message!
– – –
Good evening everyone,
First of all, welcome to the Total Defence exhibition here, and also welcome to the Project Happy Feet slipper race. I am very happy to be here to see so many Singaporeans from all walks of life, both individuals and organisations, coming together to take part in this Slipper Race to raise money in support of children's education in Singapore and overseas. Project Happy Feet has been organising this race for the past three years, but this year it decided to run a special Total Defence edition of the Slipper Race to commemorate the 30th anniversary of Total Defence. I am very pleased to be here because I have been taking part in this race from the very beginning. And each time, it holds special meaning for me as I hope it will do for you too – to be reminded and be humbled by the simple act of walking in the comfort of our slippers, when there may be many children elsewhere who do not even have this very basic need.
This event has been possible because of the strong support of various sponsors, and the efforts of partners such as Le Gluttony, who has also put together a Total Defence edition of their signature food and film festival that we can all enjoy after this race. These efforts reflect a common cause, a unity in action and purpose, and that is what Total Defence is all about – everyone playing a part to keep our country strong, safe and secure.
Over the past 30 years, we have encountered a variety of challenges – from the potential terrorist threats post-September 11, the SARS outbreak in 2003, to the worst economic crisis since our independence in 2008, and the haze last year where the PSI hit unprecedented levels. In all these instances, we witnessed Total Defence in action. Public and private organisations, together with individual Singaporeans, worked together to deal with the situation. Because everyone played a part, we were able to overcome all these adversities.
We do not know what the future will bring, but what these challenges have taught us is the importance of being prepared. To be resilient, not only do we need a strong and capable defence force, an effective civil defence response, and a robust economy; we also need to ensure that there is unity, where the instinct is for people to come together and do what they can. It is therefore important to nurture this sense of community during times of peace and stability. The work that Project Happy Feet does, and the organising of this Slipper Race, is an excellent example of the Singapore Spirit which is critical to Total Defence. It is entrenched in passion and compassion to build a resilient society. The organisation is purely run by volunteers and 100% of the proceeds from donations received will go to the beneficiaries. The administrative expenses in running the project are sourced through corporate donations and sponsorship and the organisers spend much time and energy ensuring that all the volunteers are trained and imbued with the right values, beyond just coming to fulfil certain organisational requirements.
Indeed we must do more by fostering close ties through events such as this race, and many other events organised by a myriad of groups on various occasions all over Singapore. We need to provide opportunities for Singaporeans to show their care and support for fellow Singaporeans, to empower and help the disadvantaged and vulnerable to overcome their adversities. This is strengthening our social defence as we continue to contribute to the lives of those in need.
Please join me in thanking the organisers and volunteers of the Slipper Race, for giving all of us the opportunity to be part of this very meaningful event.
It is therefore apt that on the 30th anniversary of Total Defence, a Total Defence edition of the Project Happy Feet slipper race is organised. Your participation in this slipper race goes beyond fund raising; it goes beyond the simple gathering of family and friends to have a good time; your participation speaks of what we can do, as a society and one people, if we come together and play a part to achieve something bigger than ourselves. It is important that we continue to reflect on the importance of protecting what is dear to us and build a caring and resilient society for our children.
I wish you an enjoyable and meaningful race, and have a pleasant evening!
Thank you.
– – –
Project Happy Feet would like to thank Dr Maliki Bin Osman for being such a big supporter of our work, and for his generosity in word and deed.