Project Happy Feet first supported Know One Teach One (KOTO) in 2009 when it sponsored four students. These students have since graduated, a testimonial to KOTO's and to Project Happy Feet's partnership with them.
In 2011, Project Happy Feet returned to KOTO and sponsored four more students. They are: My, 19; Hieu, 19; Phu, 17; and Kieu, 17. Through coming from all walks of life, they have now one thing in common – being members of KOTO class 19.
KOTO provides two different forms of restaurant training, classified as "front of house operations" and "back of house operations". The former focuses on front-line hospitality services, whilst the latter focuses on culinary training. These skills allow students to find good jobs in Vietnam's growing tourism industry, and to ultimately, break free from the poverty cycle they were previously entrapped in.
Project Happy Feet volunteer Chen Ming and his travelling companion met with the four students during his recent visit to Hanoi and is happy to report that the students are doing well. Here are his thoughts: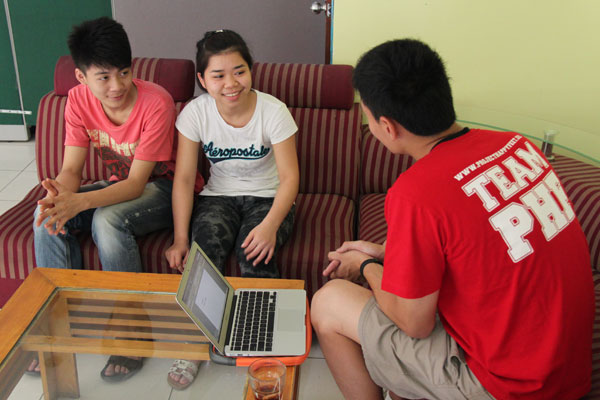 Phu and Thu from KOTO Class 19 having a chat with PHF volunteer Chen Ming
"My, 19, was initially shy as she introduced herself. Yet, as the conversation progressed, she shed her shy demeanor and spoke confidently in fluent English, even translating difficult words for her classmate! One is immediately impressed by her strong command of English, and more so by her desire to share and converse with others. This is all the more remarkable considering the fact that students, prior to the KOTO training course, spoke little or even no English. I was therefore confident that she would be able to achieve her ambitions of becoming a hotel manager.
Though Phu, 17 is less fluent in English, one can easily witness the respect his classmates have for him – apparent from the fact that he is appointed class captain. Coming from Haiphong – a city 100 kilometers from Hanoi – he initially faced some problems adapting to the new environment. It is therefore heartening to hear that he has adapted well, and is now enjoying himself at KOTO. When asked about his ambition, he laughs innocently and proclaims that he hopes to become an instructor at KOTO. It is indeed encouraging to see the immensely positive change within him, and his desire to contribute directly to other less-privileged youths.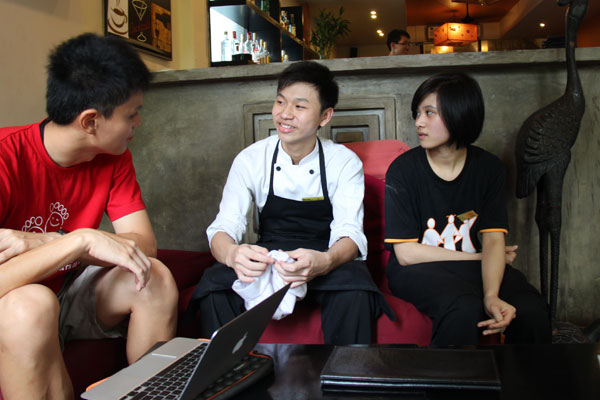 PHF Volunteer Chen Ming speaking with Hieu and Kieu from KOTO Class 19
Kieu, 17 greeted us with a warm, affable smile, as she ushered us into the café and thereafter, initiated a brief conversation on how our day went. Based on her professionalism and confident command of English, I mistook her for a full-time staff working at the café! Taking a short break from her usual routine, she shared about her experiences at KOTO with a deep sense of pride and gratitude, constantly punctuating our conversations with a heart-felt "thank you" One can indeed witness the positive change the KOTO training has had on her, and even more so, her gratitude to the kind donors in Singapore who have made this training possible.
Hieu, 19 turned up in kitchen attire drenched in sweat from having spent the morning in the kitchen. Hieu is the only one out of the 4 sponsored students to be undergoing culinary training (the rest undergoing front of house training). Even though I imagined this short meeting will be a welcomed break from the kitchen, I realized I was wrong – Hieu wanted to go back to the kitchen! He certainly had a burning passion towards learning new recipes, in particular baking recipes. In fact, he shared with us that his ambition is to become a pastry chef. Moreover, during our gathering, Kieu often interjected with praises for his cooking skills (students undergoing culinary training take turns to cook meals for their peers in their dormitories) Though we did not manage to have a taste of his cooking, we are certainly confident that his passion and determination will enable him to fulfill his life-long ambition.
It is indeed remarkable to witness the transformation taking place among the students, and their determination and optimism is highly encouraging and worthy of our admiration. The students have indeed come a long way, and we are glad that we are able to play a part in these life-changing transformations.
Truly, the best is yet to come."
Project Happy Feet supports education and training of underprivileged children in developing countries. If you wish to make a contribution, please click here. 100% of donations collected goes directly to PHF's beneficiaries.