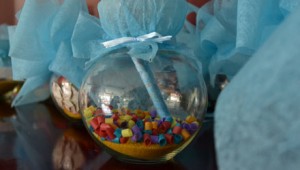 One of many dream bottles personalised by students of KOTO
"What's your dream?"
For most people, they get to answer this question so often it's become cliché. But for the students at the KOTO Saigon Training Centre, it's almost a luxury to even think about answering it.
"Most of the students come from very difficult backgrounds," explains David Loader, General Manager of the centre. "All they ever thought about was how to get through each day."
KOTO, a Vietnamese not-for-profit organization which empowers disadvantaged youths by putting them through a two-year hospitality training programme, believes that every youth should be given a chance to dream – and to pursue their dreams.
And that is why when each youth enters KOTO at the beginning of their vocational training, each is given an empty glass bottle. They are asked to personalise and decorate their glass bottles, to fill up with items that symbolize what they dream about.
They also write their dreams on a piece of paper, then roll the paper up into a scroll. They then place their scrolls into their glass bottles.
At a simple but dignified ceremony, the students place their filled glass bottles on the shelves in a locked glass cabinet at the entrance of the training centre.
"We want the students to remind themselves of their dream every day they walk in and out of the centre," says David. "So that no matter how each day went, just by looking at the glass bottles, they will remember their reason for being here, and where they are headed to."
At the end of their training stint, the students get to take down their glass bottles from the shelves, making space for the next batch of students to put their own dream-filled bottles on display.
Such was the thoughtfulness of the staff at KOTO, who not only inspire these youths to stride towards a brighter future, but also get inspired in return. And you bet these good folks have a name for the bottles too.
They call it the "Dream bottle."
Project Happy Feet has been supporting the work of KOTO since 2009 by providing scholarships and culinary books for their library. To learn more about how you, too, can help make one of the youth's dreams come true, drop us a mail.

A glass cabinet with shelves full of students' dream bottles