Bon Voyage! Volunteers Lester (2nd from left) and Agnes (centre) given a send-off by PHF volunteers Terence, Deborah and Alvin (right)
It's six-thirty on a wet and thundery Saturday morning.
While the rest of Singapore is slowly waking up, Lester and Agnes have already checked-in at Changi Airport to catch connecting flights to Kathmandu, Nepal for their onward journey to the village of Namkheli Village in the Chaulakharka District of Solukhumbu Region, Nepal.
Ahead of them are not just two flights with a transit in Bangkok, but an 8 hour bus ride out from Kathmandu through winding mountainous roads, and a one day trek by foot across forested and open highlands. It would take two days of trekking if the weather there is going to be as bad as it was this morning (we hope not!)
Their mission on this self-funded trip is to meet up with Be Human, the organisation that is helping to build a school in this remote part of the world.
The school, to be named Manjushri-SINGA Primary School, will make primary education available to 60 children living in that village. The school facility will also double-up as a community centre for the villagers to learn handicraft-making for sale and other communal activities. About 5,000 people live in this area, with an average household income of about USD26 per month.
Lester, who works in a financial institution, together with his friend Sox, who is a teacher, visited Namkheli village last year on one of their many trips to Nepal. Upon their return, the duo decided to initiate a project called 'Make Learning Possible –  HUGS Nepal' to fund-raise in support of building this school, to make learning possible.
Because fund-raising for an overseas cause requires a permit from the Singapore government, and permits are not given to individuals, Lester and Sox met with Project Happy Feet to seek support. Project Happy Feet, which believes in empowering lives through education and training, saw the passion and commitment of these two volunteers, and the alignment of their voluntary work with the mission of PHF, and unreservedly adopted the project so a permit could be applied through Project Happy Feet.
So while Lester is headed for Nepal to check on the school-building plans and speak to contractors about clearing that piece of land by felling trees before the bad weather season sets in, Sox is in Singapore busy working with two other volunteers for an upcoming private fund-raising dinner to be held at The American Club on 21 April 2012.
Weighing on all their minds is the question: "Will we be able to raise SGD25,000 for the school building before the permit expires on 30 April?"
What makes this fund-raising challenging is that Lester and Sox are permitted to fund-raise PRIVATELY so that 100% of funds raised can go to Nepal. If they make an appeal publicly, even on social media like Facebook, it would be considered a PUBLIC fund-raising exercise. Regulations stipulate that 80% of funds raised publicly must remain in Singapore, meaning less for Nepal.
Of course everyone wants the fund-raising private dinner to bring in the amounts, but in Lester and Sox's heart, they secretly wish that they would find in Project Happy Feet's mailbox a cheque of any amount made out to "Project Happy Feet Limited – Project".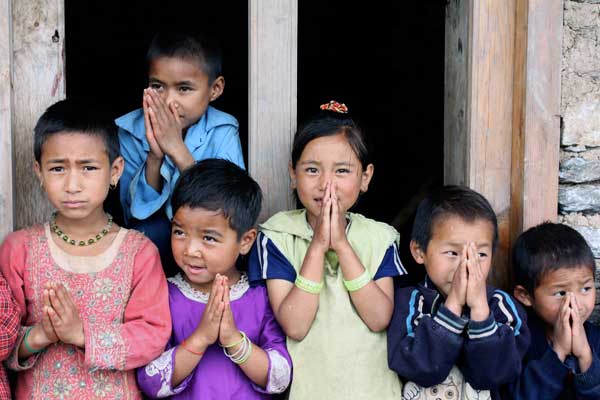 It's amazing the distance that Lester and Sox go just to make learning possible for children and villagers of Namkheli Village. All they need now is a little support so they can go even further.