In the remote and mountainous Solukhumbu Region of Nepal where Mt Everest reigns, more than 60 children of Nepal who live in the Chaulakharka District are hoping to have a school to go to.
Two Singaporeans – Sox, a teacher, and Lester, who works with a financial institution –  are determined to set up a multi-functional school not just for these children, but also for the villagers there to use as a common space for learning.
The building of  Manjushri-SINGA school would prove to be a story of determination, tenacity, generosity, faith and friendship.
To build the school, Sox and Lester would need to raise SGD25,000. They soon realised it wasn't as straightforward as just organising a few fund-raising activities.

To fund-raise for an overseas cause in Singapore, Sox and Lester would need to apply for a permit from the Charities Unit of Ministry of Community Development, Youth and Sports before they can collect funds – whether publicly or privately. While they already have Be Human Nepal as the local partner to oversee the building of the school, they need an organisation based in Singapore to apply for the fund-raising permit because such permits cannot be given to private individuals.
And that's how Sox and Lester came to be part of Project Happy Feet, whose mission is to empower lives through education and training so as to alleviate poverty. When Project Happy Feet learnt about Sox and Lester and their cause, and after doing due diligence, it decided to give full support to this meaningful project, and to help Sox and Lester make learning possible in this part of the world. Project Happy Feet adopted the school building project as its own, and put in the application for a fund-raising permit to MCYS.
After several weeks of waiting, and many hours spent on emails, meetings, appealing, and dialoguing with the Charities Unit to seek approval for a fund-raising permit, Project Happy Feet finally got the approval on 21 March 2012 from the authorities to support a private fund-raising dinner – organised by two friends of Sox and Lester's – to be held at The American Club on 21 April 2012.
Sox and Lester are relieved that the private fund-raising dinner can finally go ahead as planned, but whether they can raise SGD25,000 that evening remains a concern. As the permit is for a private fund-raising dinner, Sox and Lester are unable to appeal to the general public or solicit for donations from people whom they don't know. They can't even publicise the private dinner except to friends and their friends.
So all hopes for the school building are now pinned on the dinner. Or perhaps unsolicited donations written to "Project Happy Feet Limited – Project".
With the permit ending by the close of April 2012, will Sox and Lester and Project Happy Feet be able to make learning possible for these 60 children?

BE HUMAN NEPAL (BHN) (Govt. Regd. No: 794/066/067)

BHN is a Non-Governmental Organisation (NGO) registered in 2010 with the Kathmandu District Administrative Office of Nepal Government. Some of their projects includes building Sarashwoti Primary School, building Shree Rigelmu Primary School and providing drinking water for 27 houses. They are currently co-organising the the World Peace Prayer ceremony in Nepal.
To learn more about Be Human Nepal, visit http://www.behumannepal.org/
WHAT'S IN THE NAME?
The name of this school Project Happy Feet, Sox and Lester are building had to be meaningful to the Nepalese and yet relatable to donors from Singapore. And so, after discussing the Be Human and the community, the name Manjushri-SINGA was born.
Manjushri is a bodhisattva associated with wisdom in Mahayana Buddhism. In Nepal, Manjushri is considered as the founder of Nepalese civilization and the creator of Kathmandu Valley.
SINGA is known to Singaporeans as the short form of Singapore's ancient name of Singapura, which means Lion City.
Together, the name Manjushri-SINGA represents the effort between Nepalese and Singaporeans to bring about better education in remote Nepal.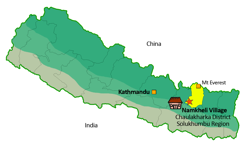 ABOUT CHAULAKHARKA DISTRICT
Population : 5,000
Household income: Approx 2000 Nepali Rupees per month (SGD32.90 or USD26.10)
Occupation: Farming is regarded as the best job while Shepherding is considered the worst occupation
Staple food: Potato, Corn, Rice
Life Expectancy and mortality: 60 years old, 200 born and 80 die per year
Location of school: Namkheli Village, Chaulakharka District, Solukhumbu Region, Nepal
Getting there: 8hrs bus ride through the winding mountainous roads followed by 1 to 1.5 days of hike to Chaulakharka.
Altitude at School : 2121m (approx. 12 times the height of Bukit Timah hiill)