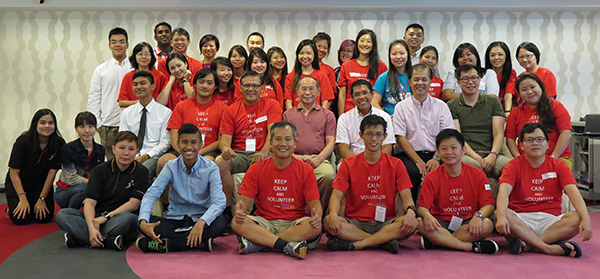 Project Happy Feet was invited by South East Community Development Council to attend its annual camp for Adult Volunteers held at Hotel Re! @ Outram from 12 to 13 July 2014.
PHF Volunteers Grace Chia and Felicia Kang joined 23 other volunteers coming from organisations such as Deloitte and Camp Vision for the networking camp which also served as a platform for South East CDC to further nurture the spirit of volunteerism and strengthen the ties between volunteers of projects and programmes supported by the CDC.
Apart from fun and games that brought delegates closer together, the two-day event also featured a dialogue with Mayor of South East district and Minister of State for Defence and National Development Dr Maliki bin Osman, and presentations by National Volunteer and Philanthropy Centre and Camp Vision.
PHF co-founder and Director Grace Chia was also invited to presented on Project Happy Feet to give delegates a better understanding of what the non-profit organisation does and how it sustained its community efforts.
"The camp gave me a greater insight into volunteerism at the local level and how we can learn from each other to strengthen our own efforts in serving the community," says Felicia. "I've also made some new friends."
Project Happy Feet would like to thank South East CDC for its continued support of Project Happy Feet's various initiatives and for inviting us to be part of its programmes.