The Manjushri-SINGA Primary School is right on schedule to open its doors in December 2012 to more than 60 children living in the vicinity.
The building of the school situated in Namkheli Village of the Solu Khumbu Valley in a remote part of the Mt Everest region of Nepal was made possible by volunteers and donors from a recent fund-raising campaign supported by Project Happy Feet.
Since the end of the fund-raising campaign in April 2012, the school ground has undergone major transformations : it now holds two adjoining buildings with facilities including three classrooms, a school office, toilets, a kitchen and even dormitory.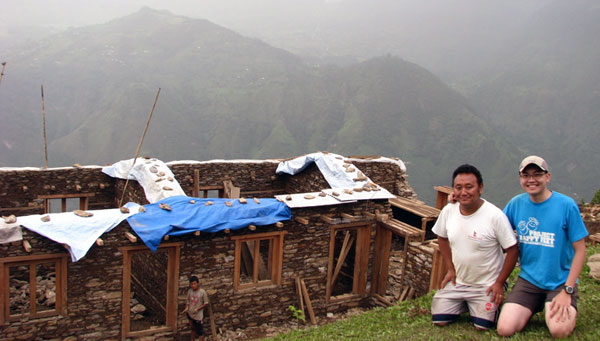 PHF Volunteer Lester Leong and Executive Director of non-profit Be Human Nepal Ang Furba Sherpa
In June 2012, PHF Volunteer Lester Leong and two other volunteers, Alvin Ten and Ian Lee, visited the school grounds to meet with Be Human Nepal (the local organisation which is helping to oversee the school-building project), interact with the locals and children, and check on the progress of the school-building. Of course, they also chipped in to help with the construction.
The volunteers noted the amount of work that has been put into erecting the building – from felling trees to obtain wood for the pillaring of the building as well as the furniture, to the leveling of the ground on the mountain ridges, to the chipping of the stone slabs to provide the layering of the wall. Lester, one of two big-hearted Singaporeans who started Make Learning Possible (MLP) to fund-raise for this school, was happy to note that despite challenging weather conditions, the school building is making good progress.
"Building a school here is back-breaking labour because of the absence of modern technology," reflects Lester. "But it also shows how working as a team helps the village build a school physically and spiritually. Everyone's excited and looking forward to the completion of the building, knowing that these 60 children will have access to education and be on their way to become active citizen of the community."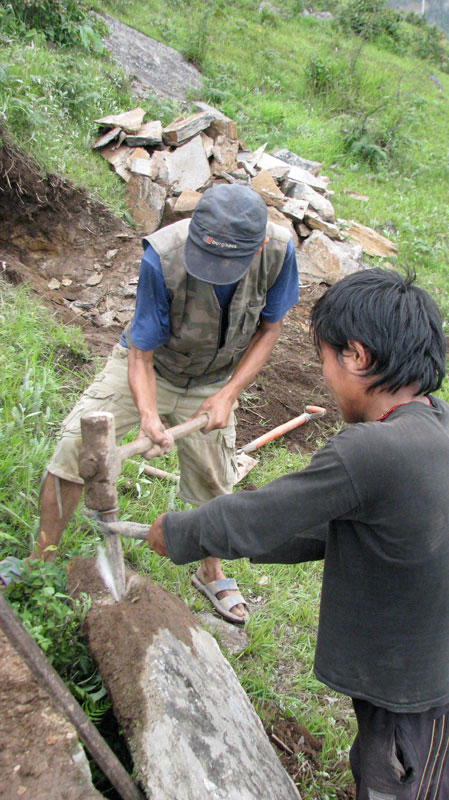 Stone-breakers chipping at the boulders to break them into smaller pieces.
These pieces would then be carried back to the site.

Digging up the boulders for use as part of the construction of the school building

Building the school by hand –  and stone by stone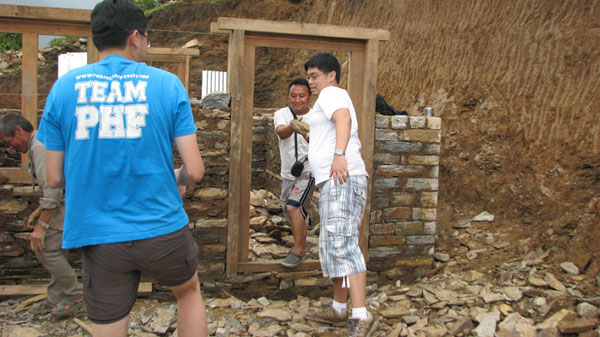 Volunteers chipping in to help the villagers build the school for their children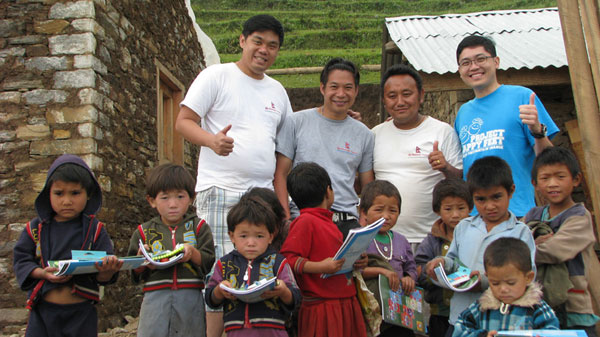 PHF Volunteers with some of the children who eagerly await their school to be completed

Project Happy Feet would like to thank donors, volunteers and supporters for making learning possible in this beautiful part of Nepal. Should you be keen to support Lester and the Make Learning Possible project, please email contact@projecthappyfeet.org