The second Slipper Race – Resort Edition organised by Crimson Resort & Spa Mactan in Cebu, Philippines drew some 300 people and raised in excess of Php280,000 to benefit more than 2,000 Grade 1 public school kids supported by Gawad Kalinga.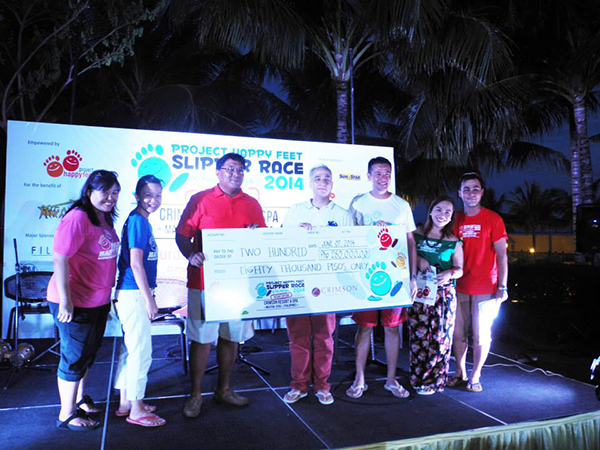 The event, which was held on Saturday, 7 June 2014, gave the familiar Slipper Race a twist – teams of five had to overcome four challenge stations while walking in slippers (flip flops) before making their way back to the poolside garden. The fastest teams walked away with sponsored prizes.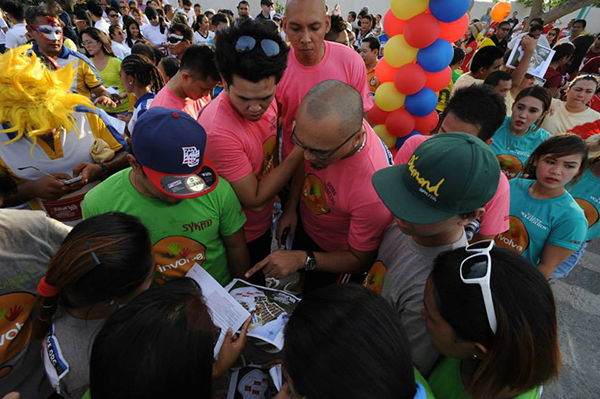 "We're very impressed by the creativity and passion of the staff members of Crimson Resort & Spa Mactan who took it upon themselves to organise the event," says Grace Chia, co-founder and director of Project Happy Feet. "And not forgetting the participants – their enthusiasm and energy is highly electrifying!"
Indeed, it was evident that the energy of the Crimson Resort team had spread to the teams of participants. No effort was spared in dressing up in team colours – some with masks and face paints, while others adorned their slippers with colourful add-ons. The air was charged with enthusiasm and excitement.
Shortly after a short address by Deborah Chew, co-founder and director of PHF and a race briefing conducted by the resort's Sports & Leisure department, participants warmed up to the movement of Zumba. They then took part in a ceremonial 1km walk led by the resort's General Manager Mr James Montenegro and PHF volunteers who flew in from Singapore to support the event.
"The ceremonial walk is symbolic as it echoes the original meaning behind the Slipper Race – to put ourselves in the 'slippers' of the many underprivileged kids around the world who have to walk long distances just to go to school," says Ms Deborah Chew, co-founder and director of PHF.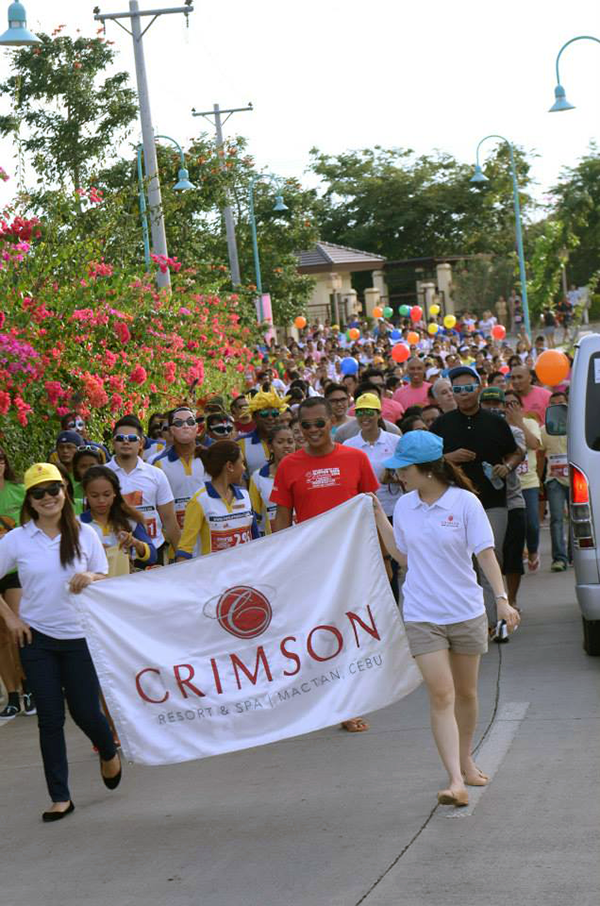 After the race, participants and guests congregate at the resort's pool-side garden to enjoy an open bar cocktail reception while witnessing the presentation of tokens of appreciation to sponsors and a giant mock cheque to Gawad Kalinga. 8 Project Happy Feet volunteers, who flew up from Singapore to support the event, also took to the stage to present to the GM and staff of Crimson Resort & Spa Mactan a token of appreciation for their support of the Slipper Race and also the education of local underprivileged children.
The event ended on a high note with the winning teams receiving their prizes on stage, and a reggae band playing into the night.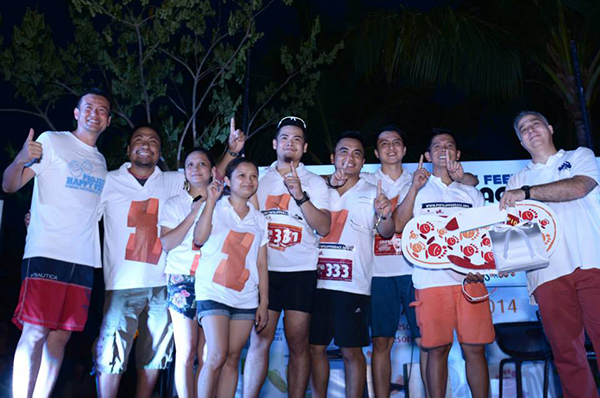 Project Happy Feet would like to thank Crimson Resort & Spa Mactan, all its staff, sponsors and suppliers, and the participating teams for making the second Slipper Race Cebu – Resort Edition a success!