Chefs for a Cause 2014 was special not only to the 13 notable chefs who whipped up more than 35 gastronomic creations, or the volunteers who organised it, or the 300 guests who came to support the efficient fundraiser in support of education of children suffering from cancer.
It was special also to Kenny Khoo, the Singapore singer-songwriter who just released his first full-length self-composed mandarin album "Ten Storeys" in Taiwan in April 2014, which topped the charts.
This was Kenny's first charity gig since launching his music career recently.
The talented Singaporean, who performed several numbers from his album LIVE at Chefs for a Cause, had aspired to be a singer since young and decided to pursue a career in entertainment after his studies.
The lead vocal of Kenyen who performed at bars took part in a LIVE singing competition one day, which not only gave him much exposure to local media, but also landed him in a lead role in Chai Yee Wai's movie "That Girl In A Pinafore".
The new artist of Funkie Monkies Production (set up by famed Singaporean musicians Eric and Xiaohan) decided to be part of Chefs for a Cause because he was moved by the philosophy of Project Happy Feet: that its events are 100% sponsored so that 100% of proceeds can go to its beneficiary.
"I find it incredibly touching," says Kenny. "I feel it's really the right way to do it."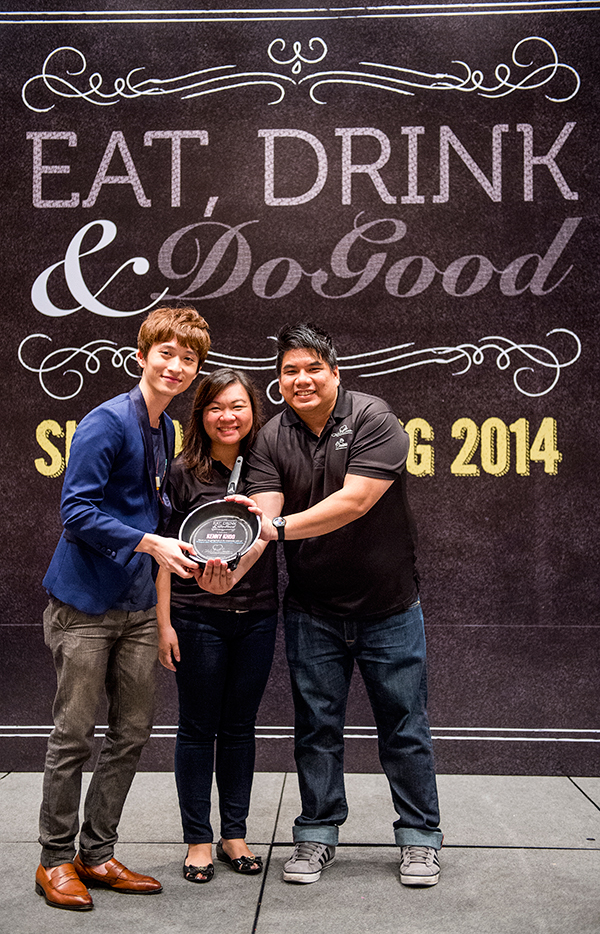 Since its formal establishment in 2009, Project Happy Feet has raised in excess of SGD500,000 through signature events like Chefs for a Cause, the sale of Recipes from the Heart cookbook, and Project Happy Feet Slipper Race. All events were run on 100% efficiency model, with all proceeds generated channelled directly to nominated beneficiaries.
Indeed, this was the case for Chefs for a Cause 2014, which was held on 24 August 2014 at Swissotel Merchant Court hotel. Everyone was a volunteer. Sponsors covered all costs associated with the event. Even the chefs paid for their own ingredients.
"Without volunteerism, charity organisations can't function effectively. Hence it's our duty to contribute in whatever ways possible within our own means to give back to society."
The charming performer had the chance to meet with some of the chefs, and also interacted with the Guest-of-Honour, Professor Tommy Koh, Singapore's Ambassador-At-Large.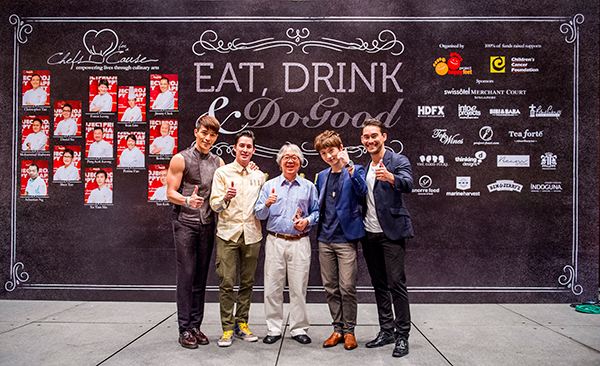 "Being involved in Chefs for a Cause was very enjoyable," reminisced Kenny. "It also gave me a timely reminder to always lend our hands to the less fortunate."
And what words of encouragement does Singapore's new son of pop music have for our beneficiaries?
"Dream big and work hard towards it. I believe that when there is a will, there is a way. :)"
Hear, hear!
Project Happy Feet would like to thank Kenny Khoo for performing LIVE at Chefs for a Cause 2014, and also thank Funkie Monkies Productions for its support.