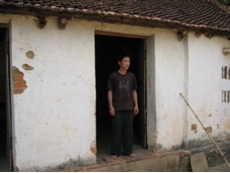 Vu Thi Duyen, 13, a HSCV beneficiary
Everyday after school, 9-year-old Vu Trung Duyen and his 13-year-old sister Vu Trung Kien head home to help out with the chores and care for their elderly grandmother.
Meanwhile, their mother Nguyen Thi Chinh toils in the fields as the family's sole breadwinner.
This is everyday life for a family whose troubles began 3 years ago when Chinh injured her arm while working in a plastics factory. Fate then dealt another blow, as her ill husband fell into a pond and drowned.
Chinh was unable to tend to him as she was undergoing treatment for her arm.
To help the family cope, the Humanitarian Services for Children of Vietnam (HSCV) donates rice to them, and gives educational scholarships to both children, thus allowing them to stay in school.
This assistance has gone on for the past five years, and though life is marginally better for the family, Chinh's arm is still not full recovered and as such she only works with one arm.
She hopes to start raising poultry so she can make more money to feed her malnourished children.
Your donations will allow Chinh and her family to continuing receiving rice donations, and help them keep afloat in their time of difficulty.
| | |
| --- | --- |
| • | The cost to sponsor a family for a year's worth of Rice Distribution is $320. |