Thanks to Sony Music Singapore and Cathay Organisation, Project Happy Feet is now linked to 'Sound City', a film directed by Dave Grohl (Foo Fighters) and featuring interviews and performances from the famous musicians who recorded some of rock's greatest albums at the studio of the same name.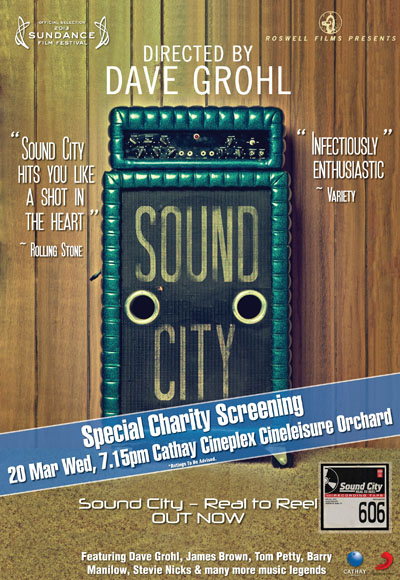 In support of Project Happy Feet, all proceeds from the charity screening held on 20 March 2013 at Cathay Cineplex Cineleisure Orchard will be channeled towards the Singapore-based non-profit organisation which empowers lives through supporting education and training of underprivileged children and youths so they may help themselves out of poverty.
Patrons who bought tickets to the movie were presented with HAPPY – the limited edition 2012 Project Happy Feet Slipper Race mascot in appreciation for their support.
They would be happy to note that not only will 100% of the funds received by Project Happy Feet be channeled directly to support education and training related programmes, but the funds would be also doubled, thanks to the 1-for-1 dollar matching grant by Community Partner South East Community Development Council.
Apart from the funds generated through the screening, the organisers for the event have also promoted Project Happy Feet on their online social media platforms:
As a result of the charity screening, Project Happy Feet also made its way to American rock band Foo Fighter's FB page, potentially reaching out to 8 million fans of Foo Fans!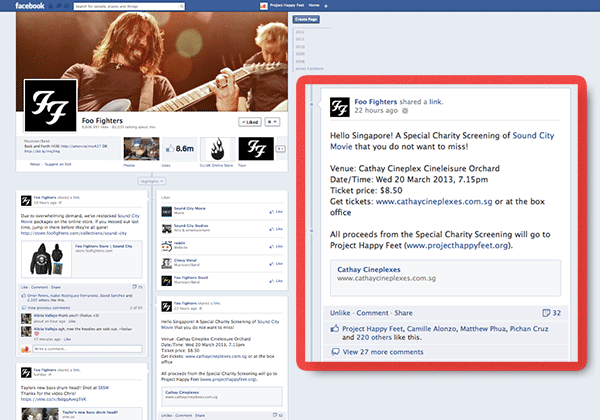 Project Happy Feet would like to thank Sony Music Singapore and Cathay Organisation for organising the event, and for appointing Project Happy Feet as its beneficiary! We also thank Foo Fighters for the mention!