ShowAve (14 Nov, 2011)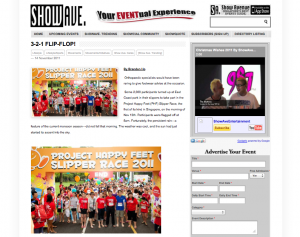 By Branden Ho — 14 November 2011
By Branden Ho
 Orthopaedic specialists would have been raring to give footwear advice at the occasion.
Some 2,000 participants turned up at East Coast park in their slippers to take part in the Project Happy Feet (PHF) Slipper Race, the first of its kind in Singapore, on the morning of Nov 13th. Participants were flagged off at 8am. Fortunately, the persistent rain—a feature of the current monsoon season—did not fall that morning. The weather was cool, and the sun had just started its ascent into the sky.
RARING TO GO – Participants at the starting line with Guest-of-Honor Dr Maliki Osman Photo courtesy of Avenue 8
Organised by Project Happy Feet Limited, a Singapore-based non-profit organisation set up since 2009 to support education-related initiatives that empower underprivileged lives in developing countries, the non-competitive 3km walk attracted individuals, families, professionals, community groups, corporate organisations and non-profit groups.
Dr Maliki Osman, Mayor of South East District and Senior Parliamentary Secretary for Defence and National Development also turned up in slippers to flag-off the participants as Guest-of-Honour and to join the walk.
ALL ABOUT THE COMPANY – It was not really a race, most participants just took it easy and walked at their own pace – Photo courtesy of Kelvin Chia
The race was open to just about anyone who cared to register; there were even some unregistered participants who joined in the fun anyway. Ms Michele Cornelius, who clocked approximately 30 mins after covering 3.2km in her slippers, was the first finisher.
Not that it mattered, since it was a non-competitive race and the focus was on having a good time.
Instead of a finishing medal, registered participants received a Trexi—an action figure with a rotating head and articulated limbs, developed as a first-of-its-kind canvas toy by Singaporean toy-maker Play Imaginative. The biggest winners in the event were beneficiaries of the Straits Times Pocket Money Fund, Blue Dragon Foundation (Vietnam) and This Life Cambodia (Cambodia). These organisations aim to help underprivileged children by raising funds for their education.
An amount in excess of $85,000 was raised through registration fees and donations via Paypal or cheques.
UNITY – Some participants sporting matching tops posing for the camera – Photo courtesy of Avenue 8
In total, 100 pairs of Havaianas slippers were left along the route by the Brazilian footwear giant for participants to pick up in treasure hunt style. All slippers found by participants were theirs to keep. While some participants went out of their way to find them, most just went with the flow of the race.
Asked if PHF was likely to organise something like that again, PHF Communications Director & Founding Member Terence Quek was all smiles.
"Yes, of course! The public can look forward to another edition of PHF Slipper Race not just in Singapore, but also in Hanoi in 2012!" he said.
FLYING WITHOUT WINGS – A participant poses after finishing the 3.2km slipper race. – Photo courtesy of Avenue 8
Participants looked like they had a good time, and we at ShowAve were glad to have been invited.
Were you there too? Leave us a comment on how it went for you!
-
Branden Ho is a ShowAve. Journalist.
Branden.Ho[at]ShowAve.com.sg
THEY MADE IT HAPPEN – Some 250 volunteers made up of individuals, school students, friends and families. – Photo courtesy of
Avenue 8