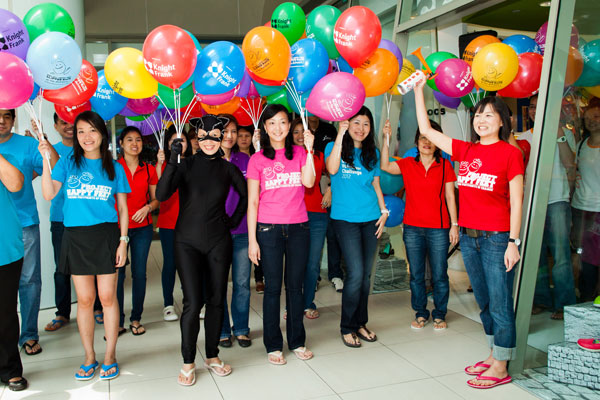 Corporate groups and individuals take a strong stride forward, pledging their support for Project Happy Feet Slipper Race 2012.
Their goal: to help Project Happy Feet reach its fund-raising target of SGD250,000 for education of underprivileged children in Singapore and Cambodia.
At a media event held on 3 October, 2012 at Crocs Retail Outlet at Marina Square shopping mall, more than 40 corporates and individuals met with friends from the media to share why they are rallying their colleagues, friends and family to register for the event and what they are doing to support the race.
"We are a Maths and English programme from the UK and being in the education business, we believe in the importance of education, especially from a young age," says Ms Evelynn Tay, Centre Manager, MagiKats Singapore. "Through our Principals (who have personally supported Project Happy Feet since last year), our staff and customers, we were able to rally more than 266 people to register and have raised in excess of SGD11,000, which will go towards the overall fund-raising amount."
"This is the first time we are rallying our colleagues and their families to come together to participate in the Slipper Race for a good cause. We hope to be able to raise the awareness of this wonderful event that supports needy children from lower-income families," said Ms Lydia Sng, Managing Director, Knight Frank Pte Ltd. "We will also be working with ComChest & Compassion Fund to bring a group of beneficiaries to join us at the event."
"It's heartening to note that corporates and individuals are responding to the call for participation," said Ms Jackie Yong, Chairperson of HP Singapore Social Impact Committee. HP Singapore is the Principal Partner for this year's slipper race. It is supporting not only through cash sponsorship, but also getting their employees engaged in the organisation of the event. It is currently rallying its employees to take part as well. "We hope many more corporate organisations and individuals will sign up to support this cause."
"As the youth wing of the National Trades Unions Congress (NTUC), Young NTUC is happy to support Project Happy Feet in reaching out to the less privileged to lend a helping hand," said Mr Eric Lim, Manager of Youth Development Unit, NTUC. Young NTUC supported the last Project Happy Feet Slipper Race and returned this year to play a bigger role as the event's Youth Activist Partner  "We're reaching out to our members to participate. Our Youth Activists are also supporting Project Happy Feet in the organisation of this meaningful event."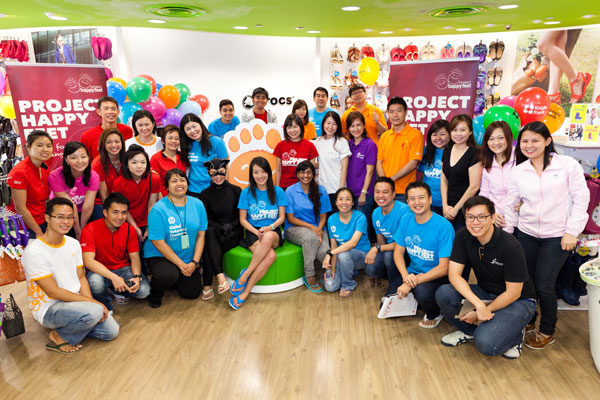 Also present were representatives from two of the three beneficiaries of the race – Compassion Fund and Commnunity Chest; and South East Community Development Council, which is the event's Community Partner.
Corporate groups aside, individuals also stepped forward to support the event.
Mdm Jenap 'Catwoman' Said, 53, is best known for completing 42 full marathons since her first race in 2006. She has volunteered to walk from the night before the race to arrive in time to join in the flag-off at 8am at Angsana Green, East Coast Park. Through her walking the distance, she is calling for donors to pledge their support for her by making a contribution online.
Pop duo Hariz&Lincoln was also present at the media event to perform their original song 'Run', which was written specially for Project Happy Feet as the theme song for the Slipper Race. Partners and media friends present were treated to a moving rendition of 'Run', and were the first people to hear it performed 'live'.
The media event also saw a ceremonial 'pinning of race tag' on the slipper race's icon by PHF co-founder Deborah Chew and HP Singapore's representative Jackie Yong, as well as a 'flag off' to symbolise corporates and individuals striding forward to support the event.
Project Happy Feet Slipper Race will be held on Sunday 4, November 2012 at Angsana Green, East Coast Park, Singapore. Registration is online and closes on 21 October.

Project Happy Feet would like to thank all partners and friends from the media for attending the event, Crocs Singapore for sponsoring the venue, Avenue8 (Jeremy) for sponsoring event photography, Knight Frank for sponsorship of the balloons, and McGallen & Bolden for helping with media liaison and sponsorship of sound system, and for all volunteers for helping make the event a success.