Thanks to private donors and corporate sponsors, 20 students from KOTO in Vietnam realised their dream of coming to Singapore.
The trip out of Vietnam and into Singapore between 12 and 18 December 2012 was an epic adventure for the students, all of whom were formerly street children or came from impoverished backgrounds.
But beyond taking a flight for the first time, the trip held even more meaning for them because the highlight of their trip was to work alongside chefs and staff of Fullerton Hotel to prepare a sumptuous meal for 200 underprivileged Singaporean children.
Project Happy Feet had supported KOTO since 2009, sponsoring a total of 8 students through their 2-year hospitality and culinary training. The graduates supported by Project Happy Feet had found jobs in the hospitality industry of Vietnam and were able to earn a decent living to support not only themselves, but their families as well.
Jimmy Pham, Founder of KOTO, always thought about exposing KOTO students to the hospitality world outside Vietnam so they could experience more, see more, and learn more. So when the opportunity came through Singapore Airline's sponsorship of air tickets for the students, Jimmy and his staff team quickly worked with Project Happy Feet to put the trip together.
They especially loved the idea that while the KOTO students were in Singapore, they could put their skills and training to good use and make a difference to the underprivileged community in Singapore, as a symbolic gesture of a "return of goodwill",
In less than a couple of weeks, PHF co-founder and director Grace Chia pulled on her connections and resources and put together an itinerary that allowed the KOTO students to taste the flavours of Singapore, and also to learn from Singapore's hospitality's best.
Project Happy Feet would like to thank the following private and corporate sponsors for making this trip possible:
Arthur Tan
Emily Chang
Eileen Lim
Grace Chia
Shin Lie
Fullerton Hotel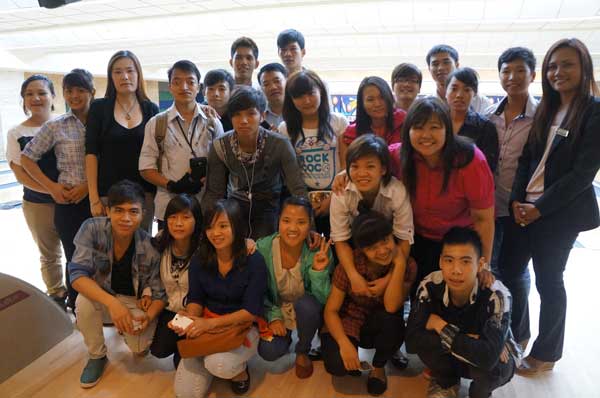 KOTO students visit Singapore Recreational Club to learn about club hospitality management. They were even treated to a game of bowling!


Catching "Footprints", a concert by NTUC's p.L.a.Y!

Visits to Gardens by the Bay, the Singapore Flyer, Chinatown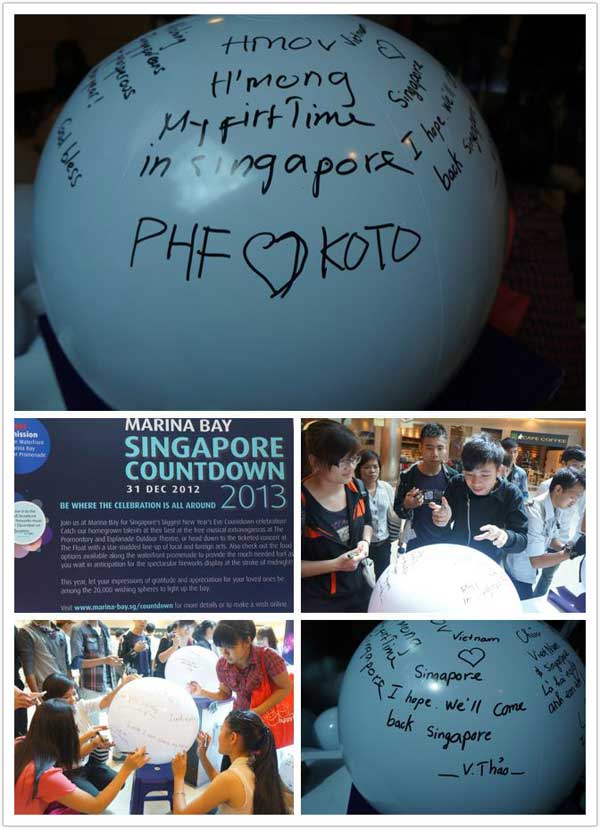 Stopping by to pen thoughts for the Countdown 2013 celebrations at Marina Bay

Having a picnic at Sentosa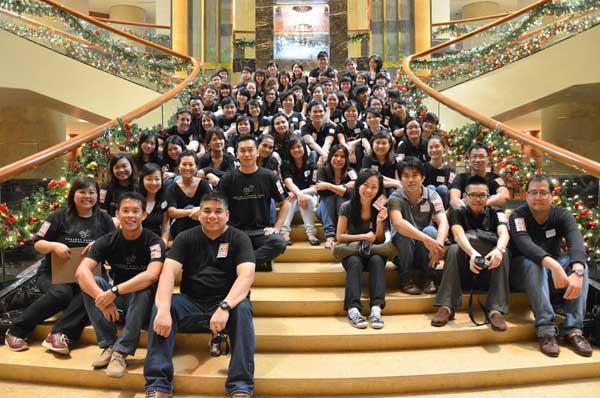 With volunteers at PHF Filled With Love @ Fullerton