Inspired by their mother Emily Chang who was instrumental in putting together the HUGS NEPAL Charity Fund-raising Dinner in aid of the school building project in Nepal, sisters Elysia, 11 years old, and Jacquelene, 9 years old, wanted to contribute to the cause as well.
And so the duo took it upon themselves to entertain about 200 guests who bought tickets to attend the dinner at The American Club, Singapore on 21 April 2012.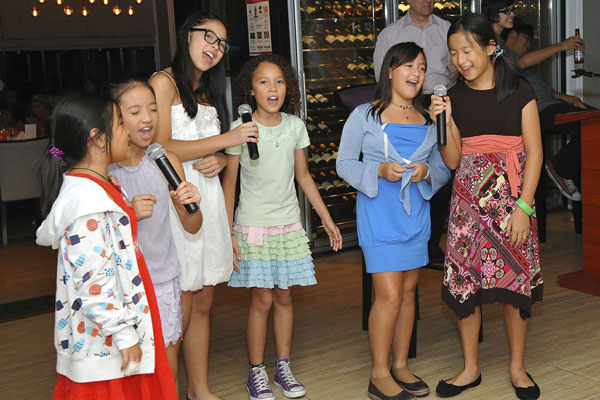 Voices that care: (left to right) Jacquelene Chang, Nina Antonio, Margi Antonio, Supreeya Maloney, Megan Griffith & Elysia Chang
Though it was a pro bono performance and for charity, the 5th and 3rd grader at the Singapore American School took two weeks to string together a performance of three songs with their friends. They wanted to put on a stellar performance.
The first Friday was song selection, learning the lyrics and finding the right beat. The second Friday was rehearsals and perfecting the songs.
"In between the days, when I was sitting down on the bus, I would pull out my ipod or phone and just plug in my earpiece so that I could listen to the songs," says Elysia.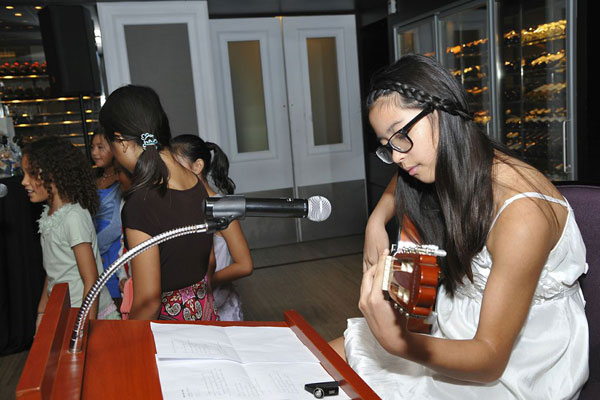 Their efforts paid off. The performance brought smiles all round and had guests swaying to the beat, and waving hands in the air. In fact, the performance was so well received it was not apparent at all to the guests that the the all-girl band had no formal singing training.
But it wasn't just the performance of a group of children performing to support the school building for children in Nepal that was especially meaningful. The songs the girls picked – Price Tag, Safe and Sound and We Are The World – were specially chosen "because they have huge impact to what the charity event is all about," says Elysia.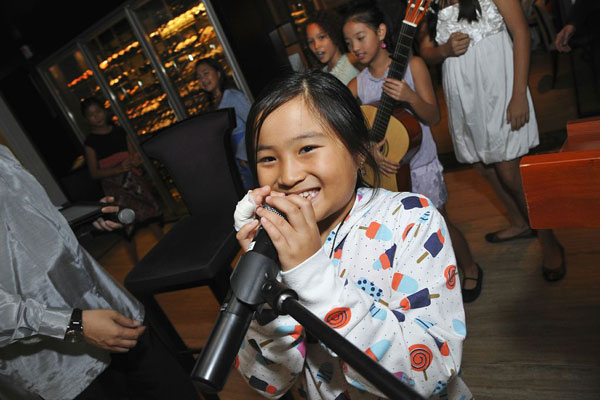 "They related to our charity party," adds Jacquelene.
So how do the girls feel after performing at the private fund-raiser?
"I feel great that I did that!" reports Jacquelene.
"It's always been my dream to sing in front of a crowd on stage," says Elysia. "I've done it before but not many people were looking, but when I performed I could see people feeling the music and I definitely felt welcomed and warmed. I've also danced a couple of times in front of huge audiences but I've always wanted to sing and not dance and so I felt grateful for that moment and it's definitely memorable especially with all my friends up there with me."
"It was so much fun!" exclaim Nina and Margi, who are friends with Elysia and Jacquelene. The girls were asked to perform by their mother, and though they were not sure initially, when they learnt it was for a dinner that would help poor children in Nepal, they "said YES!"
"We were not scared," add Nina and Margi. "We just kept singing because everyone was nice and having lots of fun. After singing, we got to play and eat with our friends before we went home. We want to do it again!"
The little singers not only have great voices, stage presence, and put up a great show, they are also very aware of why the event was organised by their mother and her friend Eileen.
"I feel so blessed to have people like that (their mother, Eileen, Lester and Sox, and other volunteers) taking their time to do stuff like that around the world. If everyone could just take a little time and notice these (underprivileged) kids, there would be a greater impact, and I thank Lester and Sox for creating that impact first," says Elysia.
"We have everything we need – education, water, food, health care, etc. But these (underprivileged) children, they don't have any of those, and you feel sorry for them. We even have extra stuff like computers and phones. But instead of buying computers and phones, why can't we just stop for a minute and donate that money to charity and Nepal?"