In the early morning of 4 November 2012, more than 2,500 people turned up for the second annual Project Happy Feet Slipper Race, Singapore's only non-competitive walk in slippers to raise funds for education and training related programmes to empower lives of underprivileged children in Singapore and overseas. The event took place at Angsana Green, East Coast Park, and raised in excess of S$88,000 (at the point of counting).
Beneficiaries for this year's event are This Life Cambodia (based in Siem Reap, Cambodia), as well as Compassion Fund and the Special Education Financial Assistance Scheme by Community Chest, both based in Singapore. In accordance with regulations, funds raised will be split three ways: 40% to each of the two Singaporean organisations, and 20% to This Life Cambodia.
The Project Happy Feet Slipper Race is inspired by the many school children living in rural places in countries such as Cambodia who walk more than 3km to school either barefoot or in slippers – if there is a school within walking distance. By getting participants to walk in similar distances in slippers, the organisers hope people will put themselves in the shoes (or slippers) of these underprivileged children and do their part to contribute towards them having a chance at education.
Guest-of-Honour for the event was Dr Maliki Osman, Senior Parliamentary Secretary, Ministry of Defence & Ministry of National Development and Mayor, South East District. He was joined by Team Singapore athletes: Gymnast Lim Heem Wei, Shuttler Derek Wong, Swimmer Mark Chay, Shooters Jasmine Ser and Lee Wung Yew, Sailor Colin Cheng, Equestrian Maximillian Tan; as well as the 30 members from the women's hockey team led by Captain Cookie Tan.
Partners who made the event possible include Principal Partner Hewlett Packard Singapore, Community Partner South East Community Development Council, Youth Activist Partner Young NTUC, Official Creative Agency Thinking Designs, Official Web Programming Agency We Simplify Marketing, Official Training Partner Right Impact Training, Official Venue National Parks, Official Energy Beverage MILO, Official Photographer Avenue8 and Official Videographer C3 Momentum.
Sponsors include Ben & Jerry's, B H S Kinetic, Broadway Industrial Group Limited, Crocs Singapore, Gardenia Food Singapore, Into e projects, Knight Frank Singapore, McDonald's Singapore, Markono Print Media, ServeAd, PUB, Winningways Premium. Supporting partners include BusAds and Drummond Printing.
"Thanks to the support from partners and volunteers, we have surpassed our numbers last year," said Ms Deborah Chew, 36, co-founder of Project Happy Feet and organising chairperson for this year's Slipper Race. "However, the fund-raising is still on-going till 30 November and we hope this event will generate even more awareness so we can raise more funds to support education of underprivileged children at home and abroad."
Since 1 September 2012, participants registered online and in groups to take part in the walking event. A record number of 17 nationalities took part in the fund-raiser, hailing from Australia, Bulgaria, China, Indonesia, India, Ireland, Jordan, Malaysia, Myanmar, New Zealand, Philippines, Poland, Singapore, Taiwan, UK, USA, and Vietnam. Thanks to sponsor Crocs Singapore, participants were able to collect their race tags from Crocs Retail outlet at Marina Square Shopping Mall over 10 days before the race.
To encourage corporate group participation and to acknowledge them for their support, Project Happy Feet awards the three largest participating groups each year. For 2012's Slipper Race, the Largest Group Participation Award went to Friends of MagiKats Math and English Education Centre with 360 registered participants. The runners-up for largest group participation award went to Knight Frank Singapore with 251 while Standard Chartered Bank clinched the third place with 160. Other groups include Broadcom, Chapters, ERC Institute, Financial Women Association, IE Singapore, MAD Learning, PAYM, SAFRA, Republic of Singapore Navy, Young NTUC, and families and friends.
Not only did corporate groups register to take part, some like Ministry of Finance's VITAL Organisation also sent employees to volunteer. Volunteers also came from Queensway Secondary School, Evergreen Secondary School, Geylang Methodist Secondary School, Raffles Institution, Temasek Junior College, Victoria Junior College, Singapore Polytechnic, and Temasek Polytechnic
Some individuals also made a difference in their own way. Celebrity marathoner Mdm Jenap Said – also renown as Singapore's 'Catwoman' – walked from Project Happy Feet's office at Jalan Pisang at midnight to arrive at the event ground in time to join the flag-off. She did this as a personal fund-raising effort and also to help generate interest and awareness for the event. Mdm Jenap was accompanied by four volunteer walkers – Amelia Ko, Tay Wenli, Ronnie Ong and Chun You.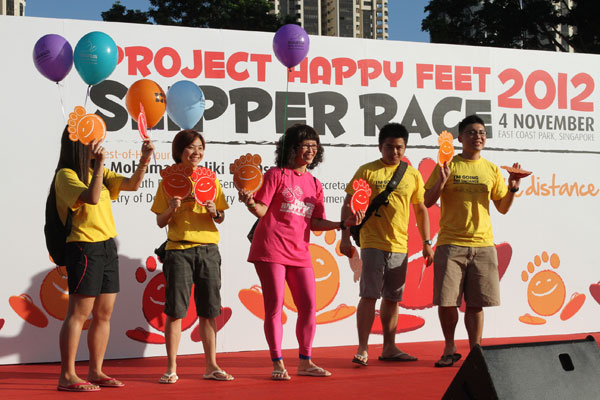 Multiple pageant winner and award-winning jewellery designer Ms Yang Lay showed up in her pageant best – a glittery short gown and a tiara, and a pair of slippers, adding much excitement and glamour to the event.
Mr Fong Chun Cheong, an inspiring man who is paralysed from waist-down from an accident and now wheelchair-bound, also took part in the Slipper Race to show his support for the cause.
At the start-point, percussionists from Our Music Studio drummed up a beat to get the atmosphere going, while on-stage, Fitness Director of Right Impact Sporting Excellence Jackson Tan designed a special pre-race warm-up for the 2,500 strong participants and led the stretching with help from the Team Singapore athletes to the beat of David Guetta's 'Titanium'.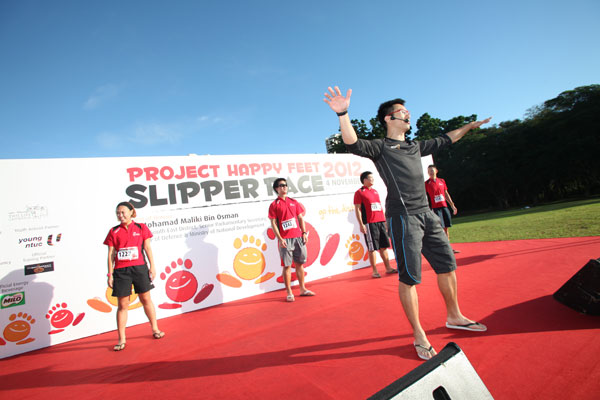 VITAL Jammers, an informal group of performers from VITAL covered a repertoire of popular songs, while R&B duo Hariz&Lincoln belted out originals from their latest EP "LIFE IS" and of course, performed 'RUN' – the theme song for this year's Slipper Race.
En-route, participants were engaged by volunteer road marshals, photographers with cut-out props with messages like "I LOVE PHF" and giant slippers, and a treasure hunt where participants stand to win a pair of Crocs slippers. Sherman Lim and Roy Izzat, both from Jurong Secondary School, not were the first participants who ran back (even though it's not a competition – they ran for fun anyways!), they also found winning tickets to redeem for a pair of Crocs each.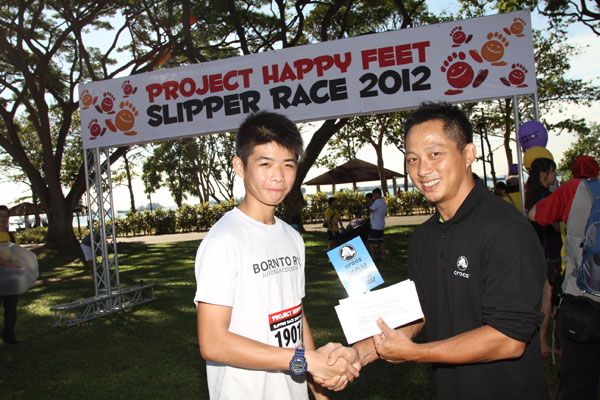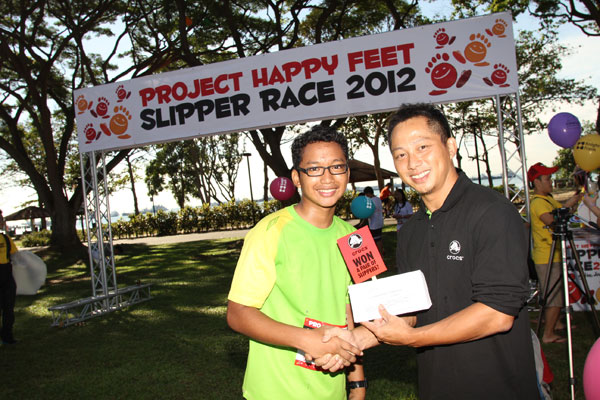 The Project Happy Feet Slipper Race is organised entirely by volunteers so that 100% of funds collected from registration fees, spill-over sponsorship and outright donations can go directly to the beneficiaries. Public can continue to donate to the cause through the event website www.phfslipperrace.org, the donation period ends on 30 November 2012.