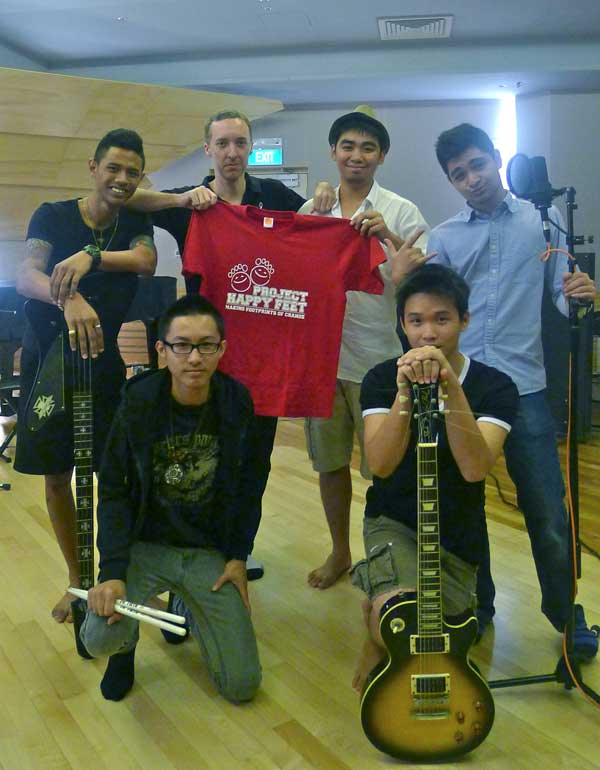 Project Happy Feet Slipper Race gets its very own theme song – all thanks to Hariz&Lincoln and LASALLE College of the Arts.
"Run", an original piece composed and written by Lincoln Lim of the R&B duo 'Hariz&Lincoln', was inspired by the many children living in rural parts of the world who still walk barefooted to school today just for a shot at education.
Brought to live by Hariz&Lincoln and band, with Maria Grace Koh on backing vocals, and professionally recorded at LASALLE College of the Arts by Justin Hegburg, "Run" was turned into a Music Video by Victoria Stephanie Tay and Anwar Wu in less than a week.
Catch Hariz&Lincoln perform "Run" 'live' on the day of Project Happy Feet Slipper Race 2012 on 4 November 2012, at East Coast Park, Singapore.
Want to sing along? Here are the lyrics!
Run
Verse 1:
From the start to the end
From the pass to the slam
This life is a race you're set to win
With your hopes and your dreams
Your ambitions, they gleam
So don't give up cause their worth is bigger than they seem
Pre:
No, there's no mistakes
Don't you ever stop running the race
Chorus:
So take off your shoes, and start to run
Don't look back and don't lose heart
Just keep pushin' on
So give all you've got, and never stop
Keep fighting till you reach the top
Just keep strong
And run
Just run
Verse 2:
Through blood, sweat, and tears
Forget your pain and fears
Just keep pushing through and look
The end is near!
Bridge:
You can make a change
Project Happy Feet volunteer writer Joseph Koh caught up with Hariz&Lincoln recently and wrote this piece:
Making music and trying to strike it out on your own in Singapore has never been easy. Yet this is a risk that does not faze Hariz&Lincoln, a R&B-duo who are making strides in their music career. They were actually in the Top 10 for 987's singer-songwriter competition, The Next Big Thing, so they definitely have the goods to back it up. Citing Ne-Yo, Karmin and Ingrid Michaelson as their influences, the duo recently penned a song specially for Project Happy Feet's Slipper Race. The song entitled 'Run' speaks of one pursuing your dreams, which is really apt for the project as we help unprivileged children take a huge step forward in getting there.
How did Hariz&Lincoln converge to become a musical soul mates?
Hariz organized a talent competition and Lincoln came in second for it. Ever since then, we have jammed together and also entered 987 FM's singer-songwriter competition, The Next Big Thing.
How did you guys get involved in Project Happy Feet?
Terence Quek, Founding member and Director of Communication and Outreach, was actually the one that got us in. HUGS NEPAL Charity Fund-raising Dinner was our first charity event, which is something that we will like to do more and more.
What has been your greatest milestone in your music career so far?
We held our first gig at Esplanade Waterfront, and also singing on air on popular radio station, 987 FM.
What made you guys pursue music as career?
No matter where we are in the world, we will be making music – nothing is impossible. We're committed to do what we love to do no matter what circumstances may come our way.
Care to share with us the message behind 'Run'?
'Run' is a song about chasing after your dreams, regardless of the circumstances you are in or anything that you feel holds you back. It represents the hopes and dreams of the beneficiaries for Project Happy Feet's Slipper Race, and how they still be attained by running this race of life we all go through as hard as they can.
Would you consider the music you make as "inspirational"?
We want to spread positivity through our music through different messages. If someone gets inspired, we will truly be honoured. We just want to make the world a better place.
Do you believe that the world can be changed through music?
Music has already changed the world in many, many ways. If we can even change one person's day by making it better through our music, we will glad. And it takes everyone's own effort to change the world. Individually collective.
Project Happy Feet would like to thank Hariz&Lincoln and band, Maria Grace Koh, Justin Hegburg, Victoria, Anwar and the wonderful folks of the Corporate Communications department of LASALLE College of the Arts, especially Alvan and Shimin, for making this possible!