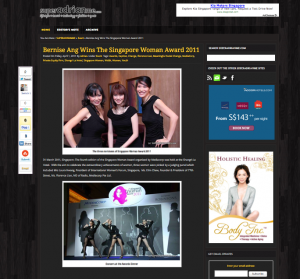 Bernise Ang Wins the Singapore Woman Award 2011
Posted On Friday, April 1, 2011 By Adrian
The three nominees of Singapore Woman Award 2011
31 March 2011, Singapore -The fourth edition of the Singapore Woman Award organized by Mediacorp was held at the Shangri-La Hotel.  With the aim to celebrate the extraordinary achievements of women, three women were picked by a judging panel which included Mrs Laura Hwang, President of International Women's Forum, Singapore,  Ms. Elim Chew, Founder & President of 77th Street, Ms. Florence Lian, MD of Radio, Mediacorp Pte Ltd.
Dancers at the Awards Dinner
The three women are Ms. Bernise Ang, the founder of Syinc, Ms. Nicole Yee, the creator of Cozycot.com and Ms. Deborah Chew, Director and Founder of Project Happy Feet.
Nicole Yee's driving force in creating a website dedicated to women, for women, by women is to keep doing things she loves and creating things that women will love.  Deborah Chew believes that great things can be achieved with tiny steps and hopes to elevate poverty through giving education and vocational training to children and youth.
Bernise Ang wins this year's Singapore Woman Award
Founder of Syinc, a non-profit organization that cultivates the ability of young people to create a meaningful social change, Bernise Ang works with young people to recognize their potential to positively impact society.  She currently serves in a change management role at a private equity firm and sits on the Advisory Board for Youth Action for Change and is also a Paragon Fellow of the Foundation of Youth Social Entrepreneurship.  With the objective to develop the ability of young people to create meaningful social change, she equips the youth with skills and resources and building support networks of community-minded peers.
Congratulations to Ms. Bernise Ang for winning the Singapore Women Award 2011.