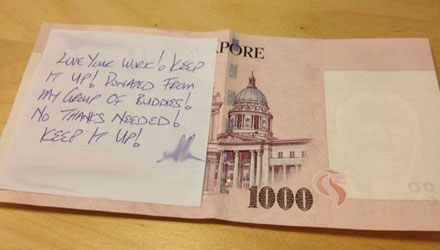 With the fund-raising permit for private fund-raising for the Nepal school expiring end of the month, Project Happy Feet volunteers were pleasantly surprised to receive an envelop with a SGD1,000 bill and a small note that read:
"Love your work! Keep it up! Donated from my group of buddies! No thanks needed! Keep it up!"
Turns out that a friend and supporter of Project Happy Feet had pooled the sum of money from a group of friends who simply want to be known as 'YHK group of friends".
The money has since been banked in, with 100% of it going straight towards the school-building fund.
With this surprise help, we are SGD1,000 closer to the target, but we're still unsure if we can raise enough to give the children and villagers of Namkheli Village a school this year.
Project Happy Feet would like to thank YHK group of friends for their timely and generous support!
To learn more about the Nepal school building project, click here