If not for the good folks of C3 Momentum Studio, there would not have been a highlight video of Project Happy Feet Slipper Race 2012.
Right up to the final week before the event, the organising committee was still in desperate search for a professional videographer to help shoot important moments of the event and to produce a highlights video.
Project Happy Feet Slipper Race is run on the philosophy of 100% sponsorship so that 100% of funds raised through registration fees and donations can go towards education of underprivileged beneficiaries.
With the year-end being a busy period for most professional videographers, it was looking like a mission impossible to get a professional videographer to come onboard as a sponsor.
That was until Roseline, a volunteer photographer with Project Happy Feet Slipper Race 2012, made a call to her friend Adrian after a briefing to volunteers. Adrian is Creative Consultant with C3 Momentum Studio.
And though the team at C3 Momentum Studio had commercial projects leading right up to the morning of the Slipper Race, upon understanding the mission of Project Happy Feet and the philosophy of the way it operates, they readily said "yes".
And they also agreed to come onboard as a full sponsor.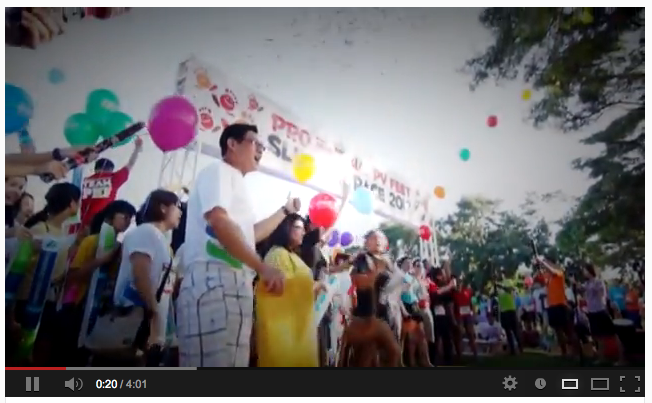 C3M consists of a core group of staff who were friends from school who share a passion for creative production. They love moving images and that's why their work consists of film, analogue and digital video, photography and motion graphics.
So what was the motivation for C3 Momentum to agree to help out at such short notice?
"We believe that what goes around comes around," says Adrian. "Project Happy Feet is a great set-up. PHF's mission really gives a platform for regular people (citizens) to make a difference in society. So it was a privilege for C3M to assist in the Slipper Race 2012 and be a part of contributing back to society with our talents. We want to partner with a group that engages in good charitable causes to benefit society and to give them our support."
And what great (and professional) support Project Happy Feet received from C3M! This was despite the fact that the team had just finished a month-long event in October, and that they had another event shoot the night before which ended at 2am on the morning of the Slipper race 2012 race.
"Looking back, we did not regret being part of Project Happy Feet Slipper Race at all," says Adrian. "It was very fulfilling being part of the event which was a success in making an impact on the underprivileged in society."
Project Happy Feet would like to thank the team at C3 Momentum Studio for sponsoring the filming and production of the highlights video for PHF Slipper Race 2012.