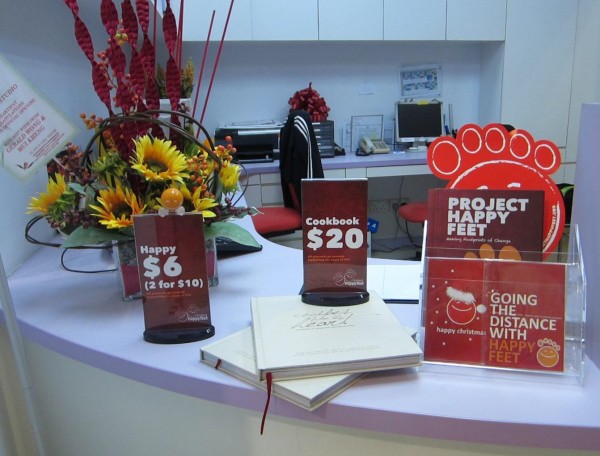 From 30 April to 6 May, volunteers of Project Happy Feet were at Our Music Studio premises promote the cause of PHF as well as to sell PHF merchandises to fund-raise.
Our Music Studio (OMS) is a music and movement school that caters to families with children from newborns to seven years of age. Adhering to the ethos of "building musical bonds that last", the passionate OMS teachers are dedicated to creating enjoyable and lasting memories for the students and their families.
In support of PHF's mission to empower lives through education and training, OMS promoted Project Happy Feet during its free trials week. During lessons, the teachers encouraged parents to patronize learn more about PHF and to support its cause.
Throughout the week, Project Happy Feet's interns/volunteers Fei Ying and Grace manned a booth space to sell merchandises such as cookbooks, fans, postcards, and Happy, a collectible from Project Happy Feet Slipper Race 2011. Our Music Studio helped by providing helium balloons for the volunteers to hand out to drive traffic to the booth space.
In all, a total amount of $766 was raised from the free trial week at Our Music Studio. Project Happy Feet would like to thank all the teachers, parents and children at Our Music Studio for their help and support.
Friends of Project Happy Feet who like to learn more about Our Music Studio music lessons can call 6467 1789 and email them at enquiry@ourmusicstudio.com.sg