"Hands up all of you who would like your life to flourish!"
That was one of the many instructions and questions posed by Lenny Ravich, a 77-year-old bestselling author, humorist, educator and keynote speaker, to an audience of more than 100 corporate and private individuals attending "Serving Happiness", a corporate networking event organised by Project Happy Feet to promote its upcoming Project Happy Feet Slipper Race.
Almost everyone's hand shot up.
And that's where Lenny began sharing the winning attitudes he proposed for everyone to have in life, and practical tips to practise those attitudes.
"Laugh at yourself" was one of the tips offered by Lenny, who had just flown in from overseas just to be in time for this event. Another was "Breathe deeply".
During the one-hour keynote held at Singapore Management University, attendees also got to witness an impromptu role play between Lenny and a member of the audience. Both arrived at an understanding even while "speaking gibberish". The audience learnt many insightful tips about overcoming life's little frustrations, staying positive, and achieving happiness – most of which really came through Lenny's own hilarious life examples.
Yet, though the hour passed quickly with much laughter, the message from Lenny was clear:
"If you want to be happy, serve happiness."
Lenny, who is considered one of the world's leading spiritual leaders with a rare combination of mastery in Gestalt, humour and lifetime experiences as an educator and an actor, shared how he viewed his life's work – educating, using humour to help people seek happiness, and more – as a "mitzvah", which in Hebrew means "A Command from God".
He recounted how he was in Thailand when a lady who took his order, thanked him.
He was puzzled and so he asked her why she thanked him, to which she replied: "Because in my country (Thailand), when I get to serve, it brings me closer to God. You have given me an opportunity to serve, and thus for me to be closer to God."
Lenny remarked: "Never before have I heard anyone associate an act of service – which in most cultures is perceived as something lowly – to be something holy!"
Lenny then recounted the story of how his helper (whose job was to ensure he had clean clothes to wear when he went on stage) considered his work a "mitzvah".
"Through service, one can gain happiness," said Lenny.
And at that juncture, Lenny commended the volunteers behind Project Happy Feet for serving happiness to the less privileged. He promptly encouraged everyone present to serve happiness through organisations like Project Happy Feet.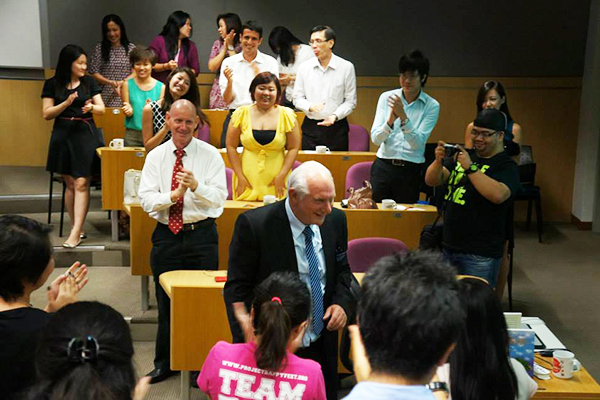 Lenny's talk ended with a rousing applause – and in fact, the audience gave him a standing ovation, and chimed together "That's the way… ah ha ah ha… I like it… ah ha ah ha…" (He had earlier explained that dreams can be realised, and to prove his point, he described his visualisation process, which included a vision of the audience giving him a rousing applause, a standing ovation, and everyone singing that chorus!)
After thanking Lenny for delivering his keynote, Terence Quek, volunteer and Director of Communication and Outreach for Project Happy Feet, gave a short presentation on the upcoming Project Happy Feet Slipper Race, and how corporate and private individuals can play a part in supporting it.
When the session came to an end, attendees bought Lenny's book "A Funny Thing Happened On The Way To Enlightenment" and got the bestselling author to autograph their book. They also purchased PHF merchandise on sale. Through the event, PHF raised SGD362.
Guests then mingled and networked, and enjoyed cups of fair trade coffee sponsored by Puro Coffee Singapore served in mugs with good English tips sponsored by Speak Good English Movement. They also savoured light snacks sponsored by The 10:10 Life.
Project Happy Feet would like to thank all guests for attending, and the following for making the event a reality:

Avi and Lenny of The Joy Care Leadership
Michelle Leong and team of The 10:10 Life
Delphine, Daphne and team of Puro Coffee Singapore
Jennifer and Trudy of Speak Good English Movement
Adrian (event photography)
and all the PHF volunteers who came after work to help set up and host.