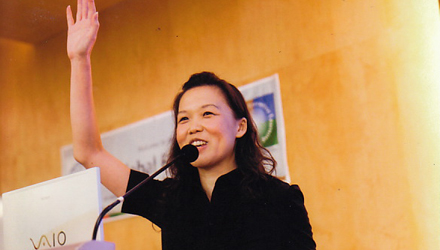 Project Happy Feet co-founder Deborah Chew was invited to speak at the 16th Global Forum on Executive Development and Business Driven Action Learning on 20 June 2011 at Traders Hotel in Singapore. Here's her reflection on the event.
I was invited to speak at the 16th Global Forum on Executive Development and Business Driven Action Learning. The four-day event saw close to 100 participants from all over the world (and really, I met a lot more non-Singaporeans in a day than ever before in my home country!), and as part of the programme, Singaporeans were invited to share on "what drives Singapore", giving her its competitive and unique edge.
Amongst the panel speakers were established leaders in the industry – Lionel Yeo, Dean & CEO of the Civil Service College, Tony Lai, Assistant Chief Executive, Singapore Tourism Board and CEO of HSR, Patrick Liew.
I must say I was nervous.
The nights before were spent looking and re-looking at what I had wanted to say. I discounted myself immediately. I was no economist. I didn't have years of experience analysing what Singapore's policies or history was. I wasn't so sure if I really knew what Singapore's competitive edge was. All I knew is that I like being in this country I call home.
"Are they sure they invited the right person?", I asked myself.
My mentor and role model, Dr Teng, who recommended for me to speak at the event, called me to run through with me what I would be speaking about. "You know Deb, I think it'd be a good idea to share your story."
"My story?", I wondered. But it got me thinking.
This morning, I walked out of Traders Hotel, feeling a sense of achievement. After my presentation, numerous members of the audience came up to me and congratulated me for the wonderfully touching and inspiring presentation. They wanted to know more about Project Happy Feet. They wanted to know how they could support our efforts. They wanted to know how they could adopt and adapt our model. They wanted to speak to me more to find out more.
Unfortunately, I had to leave as I would be heading to Siem Reap in a few hours' time to meet up with our partners there, to identify yet more children and youth we can help empower. But I exchanged contacts told them I'd be happy to continue our discussions over email.
Here I'd like to share with you my story and my presentation – from a perspective of a young Singaporean who had benefited from the Singapore system – one I called the Singapore E-lixer, and how I am now leveraging on this "E-lixer" and adapting it for how we are running Project Happy Feet.
***
KEEPING YOUNG IN SINGAPORE
I started out the presentation asking members of the audience how many of them thought they were young. I was delighted when almost everyone raised their hands!
Yes, everyone of us can be young, because being young is a state of mind. It's about having a sense of freshness and vigour. And really, Singapore has in place systems that help Singaporeans keep 'young'. I attributed this to something I coined – the Singapore E-lixer – a series of policies/values in place that started with the letter 'E'. (No cosmetic surgery involved!)
First, a story about me.
15 years ago, I came from a lower income family. I didn't own the flat I stayed in. My mum was the sole breadwinner and my brother and I were just about to enter university, both not knowing how we were going to pay for our university fees. We didn't want to give up our studies, knowing how important it was. And so we had to think of a solution.
Fast forward to today, I'm now in the middle income strata, I almost own the flat I stay in. My brother and I are graduates and I am not only a Managing Director of a strategic communications company called Caelan & Sage, I am also the Founder of Project Happy Feet.
Now something must have been right for me to move on so successfully.
The Singapore E-lixer:
Education – the country's investment in its people, in educating its people, providing opportunities and options, and incentives for continuous education even after one leaves school, so that individuals remain relevant and up to date always.
Employment – the country's robust employment scene, one that gives a lot of opportunities and options. It is for this reason that I was able to take up all kinds of jobs to earn a living to put myself through university. Fair employment policies to ensure employees are not exploited and competitive wages that motivate both companies and applicants to always be at their best.
Economical – basics such as housing, transport, education and food are kept affordable. People have a choice however if they want to spend more on these items, but whichever they choose, quality is not compromised. This helped me through my university days since these were affordable and within what I was earning while juggling school and work.
Equality – part of our pledge; providing opportunities for all regardless of race, language, religion, background. The system of meritocracy means rewards are based on rigour and vigour.
Entrepreneurship – easy to start a business in Singapore. And for this reason that my friends and I started out Caelan & Sage. Schemes and incentives are also in place for SMEs to compete with the more established organisations, encouraging healthy competition.
E-space – leveraging on e-space means breaking geographical boundaries. Ideas and solutions are no longer confined. New communication platforms for businesses, individuals and organisations are created – something PHF is leveraging on to spread the news about the work we do.
E-nnovation (okay, I cheated – but hey, I'm being innovative here!) – learning to find new ideas always. Finding new solutions to old problems, not resting on the laurels. This promotes creativity, a sense of always wanting to better oneself, resilience to finding solutions and a quest to always wanting to do it better.
But Singapore isn't all about business and economics and GDP. It has something called HEART.
The Singapore Heart Beat
Singapore is not a welfare state. Instead it provides platforms, incentives and opportunities for individuals and organisations to reach out and support the underprivileged, leveraging on their skills and expertise. What this does is that it gives the giver a sense of fulfillment, yet at the same time the recipient a sense of dignity.  It believes that at some point, these beneficiaries will get out of their underprivileged cycle, and they too can contribute back to society.
Project Happy Feet
At PHF, we seek to empower children and youth in developing countries by providing them with education or a skill. With that, we hope to get them out of the poverty cycle.
PHF started out just giving out slippers (Read the PHF story here). But then I asked myself "What next? Was I giving them fish, or would it be more useful for them if I taught them how to fish?"
Adapting the Singapore E-lixer, I decided that if education got me into a better state in life today, then it must similarly do the same for these less fortunate children and youth in developing countries. Our next plan is moving towards finding employment for them, and perhaps later, encouraging entrepreneurship in our little ways.
The plans are great, and we know we will have challenges, but we know that if it works, the cycle of empowerment will grow when these beneficiaries in turn help out other children and youth who need help. Already, we are seeing some successes with our partners, KOTO in Vietnam.
In Summary
To keep young, have a mindset of freshness and vigour. Leverage on the Singapore E-lixer, and never forget to give back to grow the cycle of empowerment!

STAY YOUNG!