It started out as a memento t-shirt for Temasek Polytechnic lecturer, Mr Goh Hock Quee, designed and produced by his students as the school semester came to a close. It ended up being a fundraising project for Project Happy Feet.
The t-shirt – now famously knows as the "Mr Goh T-shirt" – carried a carricature of Mr Goh and was seen in a photo worn by his students. When the picture of the boys wearing the 'Mr Goh' t-shirt went viral on facebook, it roused interest from current and ex-students of Mr Goh, and people started asking for it.
It was during this period when 2 seniors from the polytechnic's Diploma in Hospitality & Tourism Management (HTM), Mei Jia and Joan, suggested selling the t-shirts to raise money for the orphanage they had visited during their Overseas Community Project last year to Siem Reap, Cambodia. In addition to the 'Mr Goh' t-shirt, the group also decided to sell other designs that cater to the students from HTM. Jasper Lim, another senior, quickly came up with few designs and the group even got fellow classmates to model the t-shirts.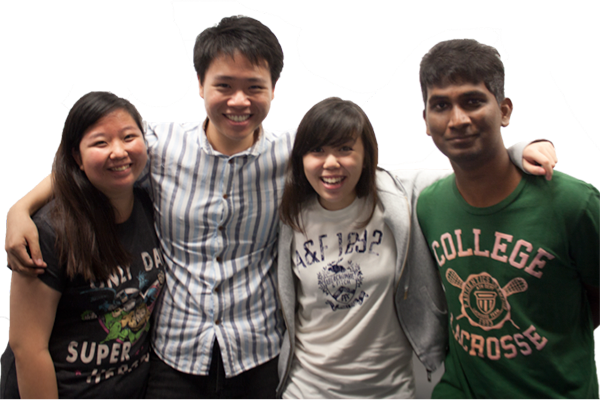 As the seniors were embarking on their internship program, the group of students behind the sale of the tshirts decided to change their plan of raising funds for another personal trip to Cambodia to make a difference there. The group decided, instead, to donate the proceeds from the sale of the t-shirts to Project Happy Feet.
"With this project, it is not just about helping the needy, but also getting our fellow schoolmates, seniors, alumni and lecturers involved in a bigger scale. Many of them want to help the needy but not sure how to do so. Also, with the busy schedule, many cannot find a way to lend a helping hand and thus, we see this as a good opportunity for them to do their part," Navindren, HTM junior, said.
The entire planning and executing of this project took the group less than a week. Facebook became the main medium of communicating to the student cohort. Despite carrying out this project during the examination period, the group wanted to take this project even further. They are now thinking of selling customized HTM teddy bears and other merchandise that will appeal to TP students and would like to reach out to bigger target group.
The project received 387 orders from about 250 students, alumni and lecturers. Even after the orders were closed, there were still many requests. The group raised S$1,052 for Project Happy Feet.
Project Happy Feet would like to thank the students and supporters of this meaningful, innovative and fun project for channeling their profits towards our cause.